Top Body Wrap Treatments
By Jessica, June 20, 2011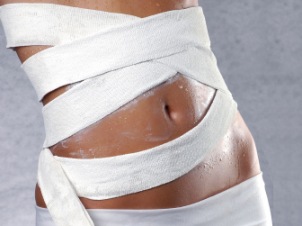 Body wraps are one of the most popular spa treatments in Ireland – not surprising when you consider their effects can include toning, cellulite reduction and skin hydration, as well as being one of the most effective spa treatments for weight loss. Long gone are the days when you were simply wrapped in some cling film and cream, today's body wraps have a dizzying array of procedures and ingredients, all with differing results. The following is a breakdown of some of the most popular body wrap treatments available in Ireland to help you decide which is best for you.
Aromatherapy
Aromatherapy body wraps are predominantly about relaxation, cocooning you in specially selected oils, plants and herbs. Often incorporating warm poultices and massage, this kind of wrap is perfect for stress relief. Therapists will usually offer you a choice of essential oils depending on your individual needs and preferences. Aromatherapy wraps are available from The K Spa in Kildare and The Heritage Golf & Spa Resort in Laois.
Chocolate
Chocolate wraps are undoubtedly the ultimate in indulgence, but Chocotherapy also has a range of benefits to the skin. Cocoa is full of antioxidants that promise to fight free-radicals and have an anti-ageing effect, and the wraps are said to alleviate cellulite and help with slimming. Temple Spa in Westmeath provides the exclusive ISHI Chocotherapy wraps, but you will also find variations in Harmony – A Touch of Spa in Cork and The Spa at Kilronan Castle, Co. Roscommon.
Coffee
Coffee body wraps are based, as you would imagine, around caffeine. Its stimulating properties can help with the appearance of cellulite while also helping to boost metabolism. Coffee wrap treatments usually also involve some form of scrub with coffee beans for a thorough exfoliation. Coffee wraps are available from Senses Day Spa in Dublin, or you can try a coffee-seaweed combination wrap from USPA in Nadur Spa in Co. Kerry.
Mud
These wraps usually use mineral-rich marine mud in the course of a treatment, as it is said to draw impurities from beneath the skin's surface as it dries. This makes mud wraps ideal for flushing toxins from the body as well as soothing muscles and reducing water retention. Dermalogica mud wraps are available from The Spa at The Pillo Hotel in Galway and Buff Day Spa in Dublin, while ESPA at The g in Galway has a selection of marine mud and oshadi clay wraps from ESPA.
Seaweed
Seaweed is ripe with vitamins and minerals that are said to help draw excess fluid from between cells. Wraps of this kind are great for detoxification of the skin, helping to break down fatty deposits and reduce the appearance of cellulite. Irish seaweed skincare brand Voya offers a range of seaweed wraps at their flagship Seaweed Baths in Sligo, as well as in spas like Seascape Spa in Donegal, Seoid Spa in Meath, and The Oasis Spa in Kilkenny.
Vinotherapy
Vinotherapy body wraps use the vitamins, minerals, antioxidants and other beneficial elements of grape vines. Treatments are said to be stimulating, toning, energising and draining, with the perk of having an anti-ageing effect. Like the chocolate wraps, ISHI Vinotherapy is exclusive to Temple Spa in Westmeath, but different grape based wraps are also available from V Spa in Donegal.