Chocotherapy
By Jessica, April 14, 2011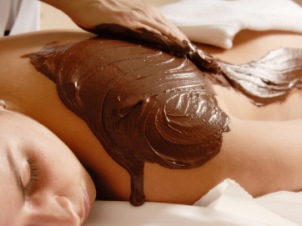 This form of chocolate therapy doesn't involve mountains of refined sugar and hours in the gym. Nor does it even require the energy used to lift a hefty bar of chocolate to your lips. Chocotherapy is the ultimate chocolate treat in which you are slathered with cocoa goodness from head to toe, and you don't have to move a muscle.
Chocotherapy was developed by ISHI, an Italian company, following extensive research into the benefits of cocoa for the skin. The company specialises in unusual resources for spa treatments, having also worked with Vinotherapy and seaweed therapies. Taking inspiration from Mayan and Aztec traditions involving cocoa, Chocotherapy was born.
Cocoa powder in its pure form is bursting with antioxidants which protect from free radicals and have an anti-ageing effect on skin. It also contains caffeine that can help with excess weight and mineral salts that combat cellulite – who knew chocolate would ever be suggested as a solution as well as the cause?
Treatments usually come in the form of either a face mask or a body wrap. Both usually incorporate some cleansing and scrubbing before the chocolate is lashed on and you are left to enjoy. Many of the body treatments then finish up with a shower followed by a massage. These indulgent treatments can last up to two and a half hours.
ISHI Chocotherapy is available exclusively in Ireland from the Temple Spa in Westmeath. You can find other chocolate themed treatments in spas around the country.