Voya
By Jessica, July 6, 2010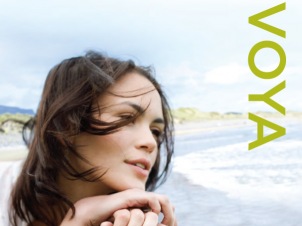 Voya is an Irish line of products, evolved from a family business running seaweed baths in Co. Sligo.  Seaweed baths are Ireland's only indigenous therapy and are believed to have detoxifying, recuperative, anti-aging and cellulite treating properties.  The benefits of cosmetics that have a seaweed component are extensive, yet, at the time the Walton brothers looked into creating a line of products, they entirely absent from the market.
There was one major obstacle to their plans.  The chemicals that traditionally go into the type of cosmetics they were developing would destroy the natural properties of the seaweed.  These chemicals would therefore have to be omitted entirely if they were to adhere to their belief in keeping the seaweed at its purest form. 
The seaweed has to be harvested by hand and selected by sight.  Coupled with the complex manner in which seaweed dries between tides and then rehydrates meant the research for an alternative to using the chemicals took six years.  But with the help of natural cosmetic scientists, marine biologists and dermatologists, they finally developed their own method of naturally preserving the seaweed.  Their technique ensures the cell structures of the seaweed remain intact, and in this way, it stays alive all the way to its absorption into your skin.
The result?  What Voya claims to be the first genuinely organic seaweed-based cosmetic products in the world.
The products are designed to recreate the feeling of a seaweed bath, described as a private voyage or journey on the sea.  The range includes formulations for the face, body and bath as well as scented candles.  All the products are seaweed based and entirely organic.  Their body cream and facial exfoliator have won awards this year from Image magazine and the Irish Tatler respectively. 
The Walton family has since reopened the original seaweed baths in Strandhill in Sligo, which now attracts 40,000 visitors a year.
If you feel like bringing the experience to the comfort of your own home, you can buy Voya products from House of Fraser in Dundrum or order them online (www.voya.ie).