ESPA
By Jessica, February 10, 2010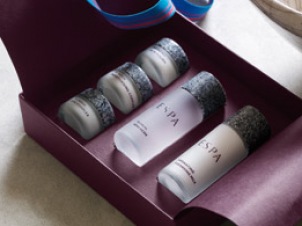 ESPA's approach to its holistic treatments is to recognise that modern lifestyles demand more from products and treatments than just traditional skincare.  They aim instead to restore the body's natural balances.
ESPA uses a combination of aromatherapy, hydrotherapy, thalassotherapy and phytotherapy in the hopes of creating unique treatments, services and spa inspired products. 
Products for the face and body are designed to firm fine lines, brighten, hydrate, rebalance, repair or calm depending on your own individual needs.  Customers are advised to tailor their selection of these products to those which suit their skin type and therefore allow their skin to function as naturally as possible. 
Body products include a range of bath and body oils to help you detox, energise or relax, as well as moisturisers and exfoliators.  They also have an extensive line of products for men which entails eye creams and masks as well as the essential shaving products.  The line of gifts consists of miniatures collections and scented candles, very much reminiscent of those dotted around luxury spas, presented in sleek and colorful packaging.
Spa treatments involve the use of hot stones, body wraps, and ayurvedic methods.  The therapies themselves include everything from facials and massages to pre and post natal treatments.
ESPA spas in Ireland can be found at The Europe Hotel & Resort, Killarney; Ritz-Carlton, Powerscourt; The G, Galway; The Maryborough, Co. Cork; Kelly's Resort Hotel, Rosslare; Radisson Blu, Rosses Point, Co. Sligo; The Merrion Hotel, Dublin 2; Mount Juliet, Co. Kilkenny and Park Hotel, Kenmare in Co. Kerry.