Vinotherapy
By Jessica, October 4, 2010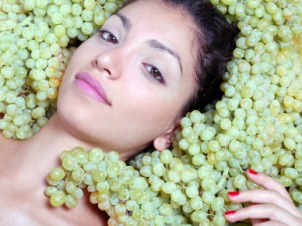 Before you get too excited at the prospect of copious amounts of wine finally being recognised as a form of therapy, there is one common misconception to clear up about Vinotherapy. These wine-based treatments are actually alcohol free, you are not left to steep in a barrel of booze in the hopes that you will mature as well as a nice bottle of red.
But before you lose all interest, there are a number of other reasons you should book yourself in for a Vinotherapy session. The treatment has a serious scientific foundation: grape vine contains a number of vitamins, minerals, anti-oxidants and free-radical fighters, and its active components have some of the best anti-ageing properties of any plant going.
Vinotherapy is available exclusively in Ireland at the Temple Country Retreat and Spa in Co. Westmeath. They use luxury products made by an Italian family company, ISHI, who also provide their Chocotherapy products.
Head therapist at the Temple Spa, Josephine Feeney, says "The treatment is very effective for stimulating, toning, energising and draining, as well as being a luxurious gourmet treatment." Their typical customer, she says, is someone who is looking for a toning and anti-ageing treatment.
At the spa, you can opt for a Vinotherapy facial or go on a full body binge with their Vinotherapy wrap. This comprehensive treatment begins with a consultation and a relaxing cup of red grapevine leaf tea to ease you in. You will then lie back and be spritzed with energising aromatic water and have your entire body cleansed, toned, and cleansed once more using latte divino cleansing milk and tonico divino. A grape must and lavender honey peel is then applied and left for 10 minutes to gently exfoliate your skin before being washed off with warm water.
Cellulite-prone areas are tackled next with a nattare divino concentrate containing vitamins B and C and mineral salts. A thermal mud and Muscat grape masque is layered on over this to drain and stimulate the skin. You will then be wrapped up for 25 minutes while you receive a Vinotherapy facial. Everything gets showered off and before you are sent on your way you are given a final full-body massage using the moisturising grape seed rosemary macerate oil.
The all important question of course is: will the reek of wine be seeping from your pores for days to come, much to the concern of friends and family? Fortunately not, according to Josephine. Instead you will leave with a gentle scent of grape with a hint of rosemary to accompany your refreshed, toned skin.