Holiday Packing Must Haves: Travel Sets
By Jessica, June 28, 2012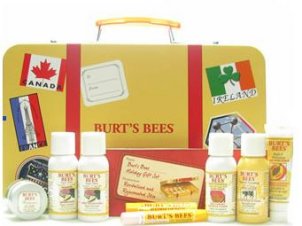 Avoid decanting messy lotions into tiny bottles before your next trip by investing in a miniature travel kit. All under €30 and most suitable for carry on luggage, they'll cover your complete holiday skincare while saving you time and valuable suitcase space.
The Head to Toe Kit
Packaged in a mini-suitcase tin, this set from Burt's Bees is perfect for summer holidays. Inside you'll find a Milk & Honey Body Lotion (29.5ml), Peach & Willowbark Deep Pore Scrub (15g), Citrus & Ginger Root Body Wash (29.5ml), Radiance Day Cream (7g), Beeswax Lip Balm (4.2g), Grapefruit & Sugar Beet Shampoo (29.5ml) and Conditioner (28.5ml), Champagne Lip Shimmer (2.6g). The kit is €24.95 from pharmacies and department stores nationwide.
The Sun Protection Kit
Liz Earle combines their sun protection products in one handy set. The 30ml miniature sizes include their Mineral Sun Cream in an SPF20, a Sun Shade Aftersun Gel and an Instant Boost Skin Tonic Spritzer. Presented in a small travel bag, the kit is €19 from www.lizearle.ie.
The Hand Luggage Kit
REN's clever Travel Set is designed to have you sailing through airport security without a hitch. All four bottles are 50ml, and so permitted in hand luggage, and come in an approved-sized clear zip lock bag. Included is Oat & Bay Shampoo, Pro-Vitamin Conditioner and Neroli & Grapefruit Body Wash and Body Cream. This kit is exclusive to www.renskincare.com for £15. However you can find similar alternatives in Arnotts and other REN stockists.
The Beach Body Kit
Packed with your beach body in mind, the Skincare Travel Essentials set from Mama Mio contains their bestselling Boob Tube and Tummy Rub in 30ml miniatures. Formulated to firm and plump the chest and neck and melt away stretch marks on the tummy, they'll leave you bikini ready in a flash. Available from Arnotts and other department stores, or online at www.mamamio.com/eu for €27.
The Retro Kit
The very cute Mini Travel Kit from The Handmade Soap Company contains 50ml bottles of shampoo, conditioner, bath & shower gel and body lotion as well as a mini soap. Presented in the Irish brand's signature retro packaging, it comes in at just €14.95. Available online from www.thehandmadesoapcompany.ie or from stockists nationwide.