The Handmade Soap Company
By Jessica, March 25, 2011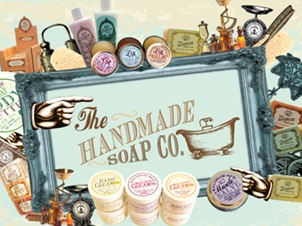 The Handmade Soap Company is an Irish line of entirely natural soaps, creams, body butters and bath products. Based in Co. Meath, they take an old-fashioned approach to skincare and don't use any harmful ingredients in their products.
The brand began in 2009 when founder Donagh Quigley found himself out of work after running his own thatching business for a number of years. Struggling in the downturn, he and partner Gemma decided it was time to try something new.
The couple took a trip to Australia, and while there discovered a handmade soap market. Donagh had always suffered from mild psoriasis but it wasn't until trying the products at this market that he discovered something that eased his symptoms.  It was then that he decided the Irish market was in need of something similar.
They returned home to Kells in Co. Meath and began researching soap-making. Donagh took trips to both the U.S and the U.K for training, and at the end of 2009 he had developed their Grapefruit Soap. Bubble bath, shower gel, body butters, moisturisers, lip balms and hand creams all followed, each fragranced with The Handmade Soap Company's signature scents.
Products are free from parabens, sulphates, mineral oil and artificial colours and fragrances. The company philosophy is to use 'only the finest natural ingredients, making new stuff the old fashioned way'. This is reflected in product packaging, with gift sets being presented in old style boxes filled with straw or tied up with string. They also produce the almost-forgotten carbolic soap as a nod to the past traditions of soap making. 
The products began to sell out at trade shows and so production was moved from the couple's kitchen to a new factory. The products are now available in Carraig Donn stores nationwide, House of Fraser in Dundrum, and a number of health shops, chemists and gift stores around the country. They can also be ordered online at www.thehandmadesoapcompany.ie.