Top Five Mineral Sun Creams
By Jessica, August 4, 2011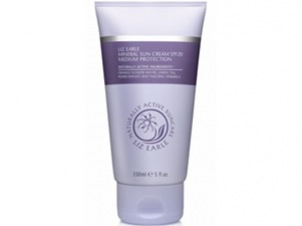 Mineral sun creams are considered a more natural alternative to traditional sun protection products. Without absorbing any potentially harmful chemicals into the skin, they form a physical barrier to deflect harmful UV rays and prevent burning, premature ageing and skin cancer. Those who suffer from skin sensitivity or who are prone to flare-ups when using sun cream can also stand to benefit from trying a mineral option, as clogged pores are less of an issue. We have looked at some of the best mineral sunscreens available in Ireland.
Liz Earle
The mineral sun cream from Liz Earle has undergone a change in formulation recently, making it lighter and less likely to leave a white film on the skin. With an SPF of 20, Vitamin E, moisturising shea butter, and antioxidants pomegranate and green tea, it provides nourishing protection suitable for even sensitive skins. Available from www.lizearle.ie, the sun cream costs €21.25 for 150ml or €7.50 for 30ml.
Trilogy
Trilogy has recently launched a new take on their bestselling Vital Moisturising Cream, containing all the same natural ingredients but with an added SPF 15. The moisturiser uses a non-whitening zinc oxide formulation for transparent, lightweight and non-greasy results. Skin also benefits from the numerous botanical actives the cream contains, promising to repair and rebuild skin while smoothing fine lines and wrinkles. Available from Arnotts and selected pharmacies nationwide, the Vital Moisturising Cream SPF 15 is €30.95 for 50ml.
Badger
Badger's SPF 30 water resistant sun cream uses natural and organic ingredients alongside uncoated zinc oxide to protect the skin from UV rays. Suitable for the face and body, moisturising components of the cream include shea butter, cocoa butter, natural Vitamin E and beeswax, while lavender oil gives it a fresh summer scent. You can find Badger sun cream at selected Nourish stores and other health food shops around the country. It retails at €19.95 for 87ml.
Avéne
Avéne offers both chemical and mineral sun protection products in their sun care line. The Very High Protection Compact offers the make-up coverage of a pressed powder with a 100% mineral SPF of 50. The compact contains Vitamin E to fight free radicals and Avéne's signature Thermal Spring Water to soothe. Suitable for fragile and intolerant skin, it is free from parabens and is water resistant. €25 for 10g from pharmacies nationwide and larger Boots stores.
Lavera
Lavera Sunscreen Block SPF 20 uses a blend of zinc oxide and titanium dioxide to deflect UV rays, evening primrose oil to nourish the skin, and liquorice extract to strengthen and soothe. The cream is fragrance free, making it suitable for even the most sensitive of skins. It does leave a slightly white residue on the skin, but is water resistant and provides near-instant protection on application. Lavera sun creams are available from health food stores nationwide, Sunscreen Block SPF 20 retails at around €11.95 for 47ml.