Summer Holiday Skincare
By Jessica, July 5, 2012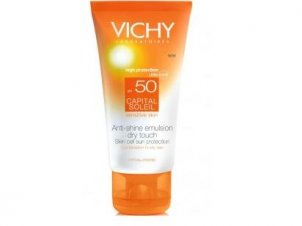 Skincare in the sun can be a challenge, particularly when your usual product line up consists of a heavy winter moisturiser and not much else. If you're visiting sunnier climes over the coming months, you may want to pick up a few of these essentials to nourish and protect fair Celtic complexions – or for a hand-luggage sojourn, try one of our top travel kits.
High Protection SPF
Sun cream is a must for sun holidays, and a higher factor is particularly important for the first few days as your skin adjusts. Vichy's new mattifying formulation, Capital Soleil Dry Touch Emulsion, has an SPF of 50 and promises to leave even oily skin soft and dry. You can find it in pharmacies nationwide for €14.50 for 50ml. Or, for a more natural alternative, check out our Top Five Mineral Sun Creams.
Hydrating Skin Mist
From the dehydrating flight to the scorching beach, you'll wonder how you ever managed without a skin misting spray. Delivering a cool and refreshing dose of hydration, these sprays are ideal for travelling. Avéne's Thermal Spring Water is a hypoallergenic, non-comedogenic bestseller and is available from Boots for €9.15 for 150ml.
Deep Cleaning Cleanser
The combination of sun cream, perspiration and increased oil production in the sun is a recipe for breakouts. Take the time each evening to thoroughly cleanse your face of the extra sebum and product that could be clogging your pores. Malin+Goetz Grapefruit Face Cleanser is gentle enough for dry and sensitive skins and hydrates without leaving a residue. It can also double up as a make-up remover if you're trying to save packing space. Available from House of Fraser in Dundrum for €18 (236ml).
Cleansing Body Wash
With all that sun cream, skin can feel a little greasy and overloaded on holidays. Try a cleansing shower gel like Nip + Fab Shower Fix – it doesn't foam excessively, so skin won't dry out, but it's still intensive enough to gently lift sun cream dregs from the skin. What's more, it smells delicious. Available from Boots and various department stores, Nip + Fab Shower Fix is €15.50 for 200ml.
Cooling Body Cream
Soothe any flaking, burns or heat rash at the end of a day in the sun with a tea tree oil infused body lotion. Australian Bodycare's Hand & Body Lotion has a tea tree oil concentration of 5%, calming and moisturising skin while also preventing ingrown hairs from holiday waxing or shaving. The lotion is available from salons nationwide, €11.99 for 150ml.