Top 5 Luxury Foot Rituals
By Jessica, April 27, 2012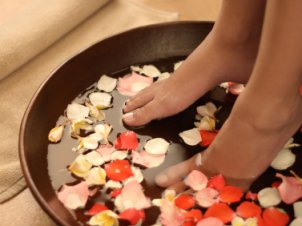 Treat your feet to one of the many pampering foot rituals on offer in spas around Ireland. A step up from at-home foot treatments and far more pampering than the ubiquitous fish pedicure, these packages have been designed by luxury spa and skincare brands to leave you with silky soft soles.
[Comfort Zone] Lushly Polynesian Foot Ritual
[Comfort Zone] is an eco-friendly skincare brand with a range of luxury treatments available in spas around the world. Their Lushly Polynesian Foot Ritual is inspired by ancient Shiatsu massage and involves a richly moisturising tiare flower balm. Relax as feet are cleansed, exfoliated and soothed and tensed pressure points are relieved. This ritual lasts around half an hour and is available from Fota Island Spa in Co. Cork.
ESPA Holistic Foot and Leg Treatment
ESPA's intensive foot treatment extends right up to the knee with acupressure point massage and exfoliation. After your toenails are tended to, you will receive a hot stone and aromatherapy oil rub down followed by a warm paraffin wax envelopment to deeply condition the skin. Spanning 75 minutes of luxury, this treatment is available from ESPA at The Ritz-Carlton, Co. Wicklow and The Maryborough Spa, Co. Cork among others.
Ytsara Sukapao Foot Beauty Ritual
Ytsara is an indulgent skincare brand with Thai origins. Their Sukapao Foot Beauty Ritual aims to relieve stiffness in weary feet using an invigorating massage and exotic mask. Toes are left smooth and beautified while the rest of the body benefits from the ensuing harmony and lightness. Enjoy over the course of 45 minutes at The River Spa in Co. Meath and The Cloisters Spa in Co. Kerry.
Elemis Sole Delight Foot Therapy
Elemis' Sole Delight Foot Therapy is a sensory ritual created to nourish the skin while calming the mind. Warmed aromatherapy oils are applied to the feet and nails and most spas also offer the additional option of a pedicure to complete the experience. Running to half an hour in length, this treatment is available at Rain Spa and Wellness in Co. Limerick and Ciúin Spa and Wellness Centre in Co. Cavan.
Voya Foot Retreat
Voya is an Irish skincare brand that utilises the west coast's natural seaweed reserves in its products and spa treatments. The Foot Retreat begins with a sea salt exfoliation from the knee down to stimulate circulation in the lower limbs and refine the skin. This is followed by a deep massage to round off the hour of treatment time. Voya Foot Retreat is available from sansanaSpa in Co. Dublin and other spas around the country.