Ytsara
By Jessica, February 10, 2010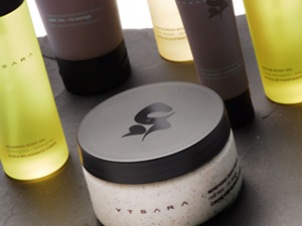 Ytsara, which means 'freedom' in Thai, is a range of beauty products with self-indulgence in mind.  Founded in 2001, the company came to being following extensive research into Asian botanical methods of holistic healing.
All 55 ingredients used in the products, such as white orchids, ginger and bamboo, are organic.  The exotic herbs, flowers and fruits all come from Ytsara's farm in Thailand or are hand-picked in the forest.  Great care is taken to protect the environment in this process, and the water supplying their chemical-free fields is tested to ensure no herbicides or pesticides contaminate the ingredients.
Products for home use include herbal lotions, cleansers and masks as well as a range of essential and massage oils.  Ytsara also has a range of products for the face which are aimed at normal to oily or normal to dry skin, sensitive or ageing skin and dehydrated skin.  These include cleansers, refiners, masks, serums and creams.
Ytsara trains and certifies therapists to carry out their treatments over a ten day course.  The trainers themselves are all trained physiotherapists, beauticians and Wat Po therapists.  Training is carried out in small groups and refresher courses are conducted every six months to ensure you are receiving the Ytsara experience in a thorough and professional manner.
Their spa treatments include a range of tropical fruit and flower facials, massages using Thai herbs and special Asian methods of holistic healing, baths, body wraps and masks.  Treatments are also available for the skin, hands and feet.
Ytsara also has a massage designed especially for children with gentle pressure applied to the head, legs and feet followed by a massage on the arms and back.  It is said to improve children's quality if sleep and to soothe and strengthen the nervous and immune systems.
Ytsara products are available exclusively in high-end resort and day spas.  Here in Ireland they can be found in The Cloisters Spa in Muckross Park, Spa Sula in Westport Plaza Hotel, Spirit One Spa in the Galway Radisson Blu Hotel and in The River Spa, Knightsbrook Hotel in Meath.