At-Home Spa Treatments for Feet
By Jessica, October 25, 2010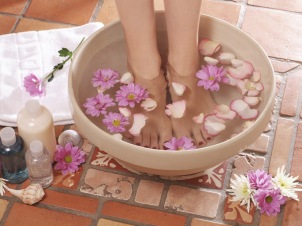 Our feet are without doubt the most abused part of our bodies. Hot-trotting it about town in vice-like shoes or pounding around the gym in festering runners makes for pretty unsightly hooves.
Aside from the odd lick of paint, our feet are often neglected at the spa in favour of treatments for the face and body. Thankfully, you can now save your soles at home with our guide to DIY spa treatments for feet.
Homemade Exfoliating Foot Scrub
Foot scrubs are simple to make and can often be done with ingredients you have lying around the house. Try crushing up some Epsom salts, or even just rock salt or sugar if you don't have any, and mix with the juice of a lemon and a few drops of your favourite essential oil.
All you have to do is lash the scrub on to your feet and ankles and massage it in. You can be pretty vigorous with rough areas like the heel but go more gently on the soles and any other sensitive parts. This will slough away dead skin cells and smoothen the appearance of the foot. You can then either rinse, moisturise and go on your way, or prolong the experience by following up with a foot bath…
DIY Herbal Foot Bath
Apply foot scrub as above, then rinse feet thoroughly.
Fill the bath or a basin with hot water, add a little essential oil, and soak your feet for 10-15 minutes.
Dry thoroughly, then massage in a nourishing foot balm. Lavender ones are good for relaxation or try one with tea tree oil to eliminate foot odour.
Finally, tuck them in to some warm woolly socks so they soak up the moisture even better, and leave them on overnight.
This at-home treatment can be approached as a quick and easy way of maintaining your extremities, perhaps with an express pedicure thrown in while you're at it. The other option is to light some scented candles, scatter the foot bath with flowers or petals, and turn the process into a luxurious night in. Either way, your feet will thank you for it!