Three of the Best Facial Oils
By Jessica, August 21, 2012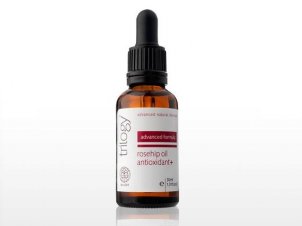 Facial oils are ideal for those with particularly dry skin, delivering deep-down hydration and surface nourishment to relieve tightness. But even oily skin types who would typically balk at lashing even more grease onto their skin can stand to benefit.
The vast majority of oily skins produce excess sebum to compensate for a lack of water, meaning gradually introducing one or two drops of oil to your routine can help regulate and balance skin in the long run. Not sure if it's for you? Find out more on caring for your precise skin type.
Tread gently to begin with to find the optimum dosage for your own skin. Most only require a couple of drops while others are designed for blending with other products.
Trilogy Rosehip Oil Antioxidant +
Trilogy's Rosehip Oil is fast achieving cult-like status in the skincare world. A richly nourishing formulation without the excessively strong scent that accompanies many of its competitors, it is the brand's hero product. The newly released Antioxidant + edition has simply served to improve on an already successful formulation by loading it with extra skin-protecting ingredients. Much like the original, it's hard to find fault with Antioxidant +. Easily absorbed and rich without being greasy, it's the ideal first-buy for those who are new to facial oils. Available from Arnotts for €32.95 for 30ml.
Cowshed Cranberry Seed Facial Oil
Cowshed offers a total of three facial oils in their range – Evening Primrose Oil to balance, Raspberry to protect and Cranberry to firm and tone. The latter is a blend of omegas, fatty acids and antioxidants. Like all Cowshed products, it's also free from parabens and artificial colours. On the skin, it glides with ease and leaves a deeply moisturising glow in its wake. While it's perhaps not for the overly oily, it does give dry skin a healthy sheen when worn under make-up. Available from Harvey Nichols in Dundrum, this is the priciest of the lot for around €55 for 30ml.
Aromatherapy Associates Nourishing Facial Oil
Aromatherapy Associates Nourishing Face Oil is one of five oils offered by the brand. Enriched with sandalwood, rose and primrose oils, it is unsurprisingly strong in scent. Decidedly luxurious, this one is particularly suited to mixing with a moisturiser, both to improve spreadability and to prolong the lifespan of the tiny bottle. While the fragrance may not be for everyone, skin really does lap this up for thorough lasting hydration. Priced at €41.07 for 15ml, anti-ageing alternatives are also available. You'll find Aromatherapy Associates facial oils in select spas including Vedas Beauty in Dublin.