Trilogy
By Jessica, December 14, 2010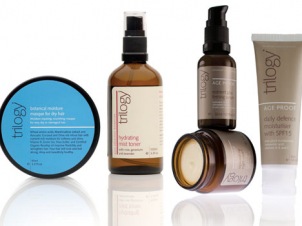 Trilogy skincare products were born of sister act Sarah and Catherine who grew up on an avocado orchard in Australia. The pair decided to go into business together when Sarah struck oil while developing a natural cosmetics company – rosehip oil.
Unlike other products on the market at the time, rosehip oil was entirely natural and odourless. One of the distinguishing characteristics of rosehip is that despite being an oil it is distinctly 'non-oily', moisturising the skin without being greasy.
Sarah developed a new way to extract oil from rosehip seeds and recruited Catherine, a seasoned beauty journalist, to help develop the brand further. The products that followed were based on a trilogy of three key characteristics – they would be simple, pure and vital.
Products for dry, sensitive and ageing skin on both the face and body are available, as is hair care and a selection of products for men. All of the products contain natural ingredients which are culturally, ethically and environmentally sustainable and no product is tested on animals.
Trilogy's Organic Certified Rosehip Oil is one of the brand's hero products. The oil contains Omega 3, 6 and 9, essential fatty acids and antioxidants and can be used for reducing wrinkles and fine lines, softening and smoothing skin and daily moisturising.
Trilogy's skincare and beauty products have since won an array of awards. Organic Certified Rosehip Oil in particular boasts Best Organic Anti-Ager in Harper's Bazaar Top 100 of 2010, an Irish Tatler Beauty Award for best Hero Serum, a Social and Personal Beauty Award for Best Serum, and U Magazine's Kindest to Our Skin award.
Another product of note is Trilogy Everything Balm which also contains rosehip oil as well as a nourishing mixture of marula oil, jojoba, olive oil, avocado oil, honey and vitamin E. It can be used to soften dry elbows, knees, lips, hands and feet and is gentle enough to be used on baby's skin. This product was the recipient of a Pregnancy and New Mum's Skincare Award in the UK Practical Parenting Awards 2009/2010.
Other award winners include Trilogy's Very Gentle Cleansing Cream, Trilogy Botanical Body Wash and Age Proof Replenishing Night Cream. In 2010, Sarah and Catherine themselves were on the receiving end of an award when they were listed in the UK's Top 20 Who's Who in Natural Beauty.
Trilogy products are available in health shops and pharmacies nationwide, a full list of which can be found at www.trilogyproducts.com/stockists.