Cowshed
By Jessica, February 10, 2010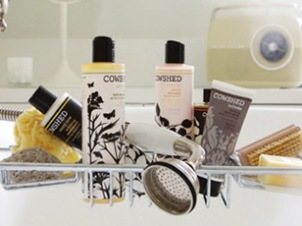 Are you a moody cow, lazy cow or grumpy cow?  These are some of the options available to you when shopping online for Cowshed products, which specialise in lotions and potions comprised of oils, proteins, fatty acids and vitamins sourced solely from plants. 
The brand has been going for twelve years and is gradually expanding to include maternity and male grooming products.  A far cry from the small range designed in the Cowshed Spa in Somerset, named after the building's former occupants.  Nowadays, all of their formulations contain a drop of their signature infusion of herbs and flowers which are handpicked from the garden of the original Cowshed Spa.
Not only is the brand entirely natural and organic, individual products are all quirky in name and design.  Depending on your 'moo'-d, you will be directed to products such as Cow Pat Moisturiser, Dirty Cow Hand Wash, Lippy Cow Lip Balm and Cowlick Shampoo. 
The maternity and baby range – Udderly Gorgeous Maternity and Baby Cow Organics – is their most recent release.  Gels and salts are designed to pamper mums-to-be and their stretch mark oil and balm promise to soothe the skin and improve elasticity.  Baby products are made from meadowfoam oil with Buttery Bottom Balms and gentle washes and lotions for your little calves.
Cowshed also has a range of products for men, aptly named Bullocks, which promise to hydrate without making skin greasy.  Products include shaving cream and facial and body washes.
Cowshed's 'No Nasties Policy' promises that all products are free from petrochemicals, parabens, sulphates and artificial colours and fragrances.  Everything is suitable for vegetarians, nothing is tested on animals and the only animal products they use are organic beeswax and wild flower honey.
Cowshed now has spas in New York and Berlin as well as around London, with one due to open in Miami soon.  To join the Cowshed herd in Ireland, you can get their products in Harvey Nichols, Nue Blue Eriu in Dublin, Seagreen in Monkstown, Mise in Dundalk and Alchemist Earth in Limerick.