Sea Inspired Beauty Products
By Jessica, May 8, 2011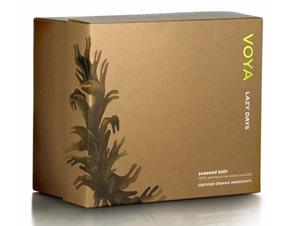 Seaweed and other products of the sea contain incredibly high levels of vitamins and minerals and their benefits to the skin care many. We've looked at some of the best seaweed skincare brands from Ireland and around the world.
Crème De La Mer
Crème de la Mer utilises the varied mineral content of sea kelp in their moisturising products. The sea kelp is blended with vitamins, minerals and essential oils, and fermented for a number of months to form what is known as the Crème de la Mer Miracle Broth – a seaborne elixir they claim to be known for its healing energies. The signature Crème de la Mer Moisturising Cream is €125 for 30ml and available from Brown Thomas stores and Harvey Nichols, Dublin.
Voya
Voya not only produce a line of Irish seaweed products, they also run a renowned healing Seaweed Bath in Co. Sligo. Their innovative product to help bring the seaweed bath experience to the home is Lazy Days, a package of dried, hand-cut seaweed sprinkled with organic sea salt. Placed in hot water, the seaweed re-plumps and rehydrates, releasing nourishing oils that prevent signs of ageing and cellulite. Lazy Days is €16 from House of Fraser in Dundrum, spas nationwide, or online from www.voya.ie
Dead Sea Spa Magik
Dead Sea Spa Magik takes ingredients from the Dead Sea to create their award-winning line of scrubs, moisturisers, hair serums and masks. Their best-seller, The Spa Magik Salt Brushing Scrub, is made from pure Dead Sea Salt mixed with citrus aroma oil. This gentle combination makes for a nourishing exfoliating treatment that detoxifies and stimulates the body without causing irritation. Dead Sea Spa products are available from selected health stores and pharmacies nationwide, or online from www.thenaturalway.ie. The scrub retails at around €14.95.
Green Angel
Green Angel's range of moisturisers, scrubs, soaps and creams are made using fresh seaweed harvested off the west coast of Ireland. The mineral-rich extracts are combined with natural essential oils before the final products are made by hand in Dublin. One of the most popular products also adds collagen into the mix for a thorough anti-ageing experience – the Seaweed & Collagen Face Cream which costs €24.95. Green Angel is available in Clery's in Dublin and a number of spas, health food shops and pharmacies around the country, as well as from www.greenangel.ie.
AlgAran
AlgAran products are developed in Donegal using a unique cold method of extracting nutrients from local seaweed. Their Rainbow Soaps are one of the most popular products, coming in a set of seven – each a different colour of the rainbow. Each of the soaps is fragranced with different essential oils to enhance or soothe specific moods. AlgAran products are available in spas, pharmacies and organic markets all over Ireland or from www.seaweedproducts.ie. The Rainbow Soaps cost €28 for a set of seven or €4.50 each.