Green Angel
By Jessica, November 22, 2010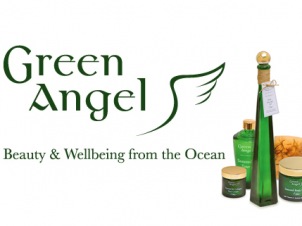 Green Angel is a range of Irish skincare products incorporating essential oils and natural Irish seaweed. The range uses ingredients like juniper, lavender and frankincense and seaweed extracts taken from five different seaweeds harvested from unpolluted waters off the West coast of Ireland. All of the products are meticulously blended in Rathcoole Co. Dublin and carry the "Guaranteed Irish" logo.
The company was founded by husband and wife team Mary and Chris Mitchell. After suffering with dry skin for several years Mary developed an interest in alternative therapies and researched various products. In the following few years the couple began experimenting with new skincare products that infused seaweed and essential oils, these products became the Green Angel brand as it is today.
There are more than 33 unique products in the range from hand crafted skincare, spa and hair products all of which incorporate a top-to-toe holistic approach. Seaweed is naturally moisturising, it contains a range of nutrients that are kind to sensitive skin so it's safe to use for skin conditions like eczema or psoriasis.
Green Angel plus+ was a winner at the prestigious Index top 50 awards held during Showcase 2006 a craft trade exhibition held at the Royal Dublin Society Exhibition Complex in Dublin. One of their more popular products The Seaweed Collagen Face Cream incorporates the rejuvenating benefits of Collagen with Seaweed extracts. Their Seaweed and Lavender Hand cream contains lavender and seaweed as well as neroli oil known for its relaxing effects. Their Sunrise Body Smoother contains salt, seaweed, lemon and grapefruit designed to rejuvenate tired skin and leave it feeling soft and smooth from the very first use.
Uniquely the products are all made by hand in Dublin. Guests are welcomed to the factory in Rathcoole to see demonstrations and products can be bought in house. Green Angel products are also available in Clery's, Dublin as well as in natural food shops, beauty salons, chemists and gift shops all over the country.