Get Set for Christmas
By Jessica, December 6, 2010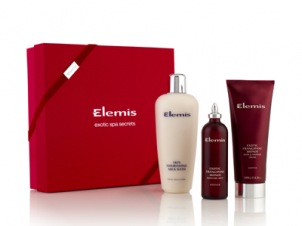 Gift sets are a wonderful Christmas present for spa lovers, but with so many available it can be difficult to choose the right one. We took a look at some of this year's gift sets in a wide range of styles and price ranges to help you pick one that's right for you.
The Sanctuary Spa Perfect Skin Set

The Sanctuary Spa Perfect Skin Set is a wonderful gift set for spa lovers. The set contains a 30ml Fresh Faced Purifying Wash, 30ml Pore Refining Toner,15ml Radiance Exfoliator, 5ml Brightening Eye Gel, 15ml Thermal Detox Mask, 15ml Moisture Boosting Mask and a 15ml Illuminating Moisture Lotion SPF15.
The 7 piece set is also wrapped in a gorgeous silver box with a festive flower pattern and bow motif. All of the products are small enough to carry on an airplane, perfect for a winter getaway or for preparing for party season.
Price: €22
Available from: Boots or online at www.thesanctuary.co.uk
Elemis Exotic Spa Secrets
The Elemis Exotic Spa Secrets gift set has everything you need to create a gorgeous at-home spa experience. The Skin Nourishing Milk Bath (400ml) contains natural plant collagen from Oat Extract and Japanese Camellia Oil to nourish the skin and leave it feeling supple. The Exotic Frangipani Monoi Bath & Shower Cream (200ml) is fragranced with sweet scented Frangipani flowers and infused with Tahitian Monoi Oil. Finally the Exotic Frangipani Monoi Moisture Melt (100ml), made of Coconut Coprah Oil and Frangipani flowers, is the perfect finish for a home spa experience. When applied to the skin it will seal in moisture leaving and can be used as an intensive conditioning treatment for hair and nails.
Price: €57.90
Available from: Elemis products and gift sets are on sale in Harvey Nichols Dublin, timetospa.co.uk
and in spas and salons all over Ireland.
Lush Winter Warmer
The Lush Winter Warmer set will help ease the cold chill of winter with its warming mulled wine-scented Glögg shower gel and vibrant Mandarin's Tea Party soap. The soap is scented with mandarin oil to give it a zesty feeling and it contains real dried orange slices and soft chunks of crystallised ginger to give it a spicy smell and warm feeling on the skin. Glögg shower gel is infused with cinnamon and clove in this shower gel to warm the body. It also contains red wine and brandy to stimulate the skin and give it a festive smell.
Both products are vegan friendly. They are limited edition for Christmas and come packaged in a gorgeous pink and orange candle patterned box with gold ribbon.
Price: €9.75
Available from: Lush stores in Cork and Belfast and in Dublin on Henry Street and Grafton Street.
Green Angel Body Soft Gift Set
This gift set is comprised of a selection of Green Angels' hero products; Seaweed Body Lotion with Chamomile and Neroli, Lavender Soap with Organic Palm and Coconut Oil and Seaweed Hand Cream with Neroli, Lavender and Vitamin E. Seaweed products are very nourishing and rich enough to use in winter, so this set would be perfect for someone suffering with dry skin or just looking for some skin pampering. Green Angel products are all hand made in Dublin with ingredients sourced in Ireland.
Price: €29.95
Available from: Pharmacies and salons all over Ireland or online through www.greenangel.com
Burt's Bees Radiance With Shimmer
The Burt's Bees Radiance With Shimmer gift set is full of products designed to leave skin with a gorgeous natural sheen. The Full sized Radiance Day cream is over 98% natural and is infused with Royal Jelly to make skin radiant. The mini radiance night cream infuses royal jelly with lemon, rosemary and pine tree extract for younger looking skin. The radiance lip shimmer is worth smiling about. It's 100% natural and is full of vitamin E, coconut and sunflower oils. It gives lips a lovely shimmer wither on its own or over lipstick.
Price: €19.95
Available from: Pharmacies and natural health food shops all over Ireland.
Trilogy You're Gorgeous Body Collection
Trilogy products blend nourishing plant oils with essential oils and extracts to create products which nourish skin. The Trilogy You're Gorgeous Body Collection contains Trilogy's Rose Hand Cream and two of their most highly acclaimed; Botanical Body Wash, and Everything Balm.
Earlier in the year the Botanical Body Wash was voted Best Beauty Buy by Social and Personal as well as winning an award from The Green Beauty Bible. Everything Balm was highly commended by Natural Health magazine for their 2010 Beauty Awards; it was also picked as a Beauty Insiders Choice finalist for the 2010 Cosmetic Executive Women UK Awards.  All three products are housed in a cotton travel bag and boxed.
Price: €20.95
Available from: Pharmacies, department stores, health stores across Ireland and online at www.trilogyproducts.com