Festive Fragrances
By Jessica, December 21, 2010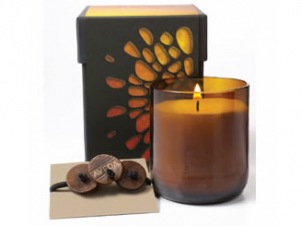 Awaken the Christmas spirit in all who cross your front door this winter with the warming aromas of some exceptional Christmas candles. Spa brand candles are popular year-round for re-creating that spa atmosphere in the home, so why not put a seasonal twist on things over the coming weeks for extra cheer? Read on for some of our favourite spa brands' limited edition festive fragrances, as well as some of the other winter-warmers on offer.
Aveda
Aveda recently released their seasonal Grounding Ritual candle for a limited Christmas run. Created with cold nights in mind, the candle is scented with organic cassia, vanilla and ginger and comes in a gorgeous box with a tagua nut accessory when ordered online at www.aveda.com.
Espa

Espa are offering a limited edition Fireside Tales candle this Christmas, scented with sandalwood, vanilla, sweet orange, cloves, cinnamon and coriander – nearly good enough to eat! Presented in show-stopping packaging typical of Espa, this candle makes for a very well-received Christmas gift. See www.espaonline.com for delivery details.
Elemis

Elemis is a hugely popular spa brand in Ireland for face and body treatments, but unknown to many they also sell a range of spa standard candles. Some particularly Christmas-y scents are to be found with The Spa Candle and The Cedarwood Spa Candle – a mixture of cinnamon, orange and vanilla; and cedarwood, eucalyptus and rosemary respectively. An ideal gift, as these scents aren't overwhelmingly reminiscent of Christmas and so can be used year-round. Elemis candles are available to purchase from www.timetospa.co.uk.
[Comfort Zone]

Comfort Zone candles are known for being long-burning, and their sprays create intense fragrances that fill a room in little to no time at all. The aromasoul Indian spray is one of our favourites for this time of year, with a strong blend of floral and amber tones. Ideal for those who want an alternative to scents of pine and cedarwood, simply spray one or two squirts around your room for a lingering musky perfume.  [Comfort Zone] products are available to purchase from Fota Island Hotel & Spa, and Harmony – A Touch of Spa both in Cork; The Sanctuary Spa, Offaly; and Heaven Scent Beauty Spa, Galway.