Weird & Wonderful Spa Treatments – Part II
By Jessica, September 6, 2012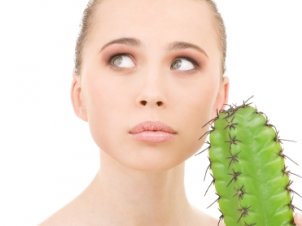 Following on from our Top Five Unusual Spa Treatments, we've come across even more eyebrow-raising experiences that can be enjoyed and endured at the spa. Thought leeches were a thing of the past and tequila was a thing of the pub? Think again…
Mexican Massages
Lick salt, down tequila and…get pummeled with cactus. OK not quite, but the Four Seasons Resort in Mexico is famous for not being too far off with its Hakali Massage. They decided that splashing some tequila on to your back and rubbing it in with cactus leaves might work out well and, apparently, it did. The stings are removed from the cactus (before your treatment, not during) and the unexpected result is rejuvenated and re-hydrated skin.
Leech Therapy
Fancy having something with three jaws and millions of teeth suck your blood? Leech therapy has gone full circle from its heyday in medieval times and come back into fashion. Demi Moore has sung the praises of the little suckers, who extract blood pooled around muscles and any other nasty stuff they lock lips with. Research has shown that leech saliva may even prevent blood from clotting.
Chocotherapy
Allegedly a treat to immerse yourself in layers of chocolate without actually getting to eat any, Chocotherapy is said to be anti-ageing and may even help treat cellulite. Hershey's Chocolate has its very own Chocolate Spa in Pennsylvania where your skin can binge on a Whipped Cocoa Bath or Chocolate Fondue Wrap. Get an Irish serving at Harmony – A Touch of Spa in Cork or The Spa at Kilronan Castle in Roscommon, where a number of Chocotherapy treatments are available.
Snake Massages
If applying their venom to your face isn't really your thing, perhaps you would prefer a few snakes slithering all over your face and body. This is the treatment on offer in Ada Barak's Carnivorous Plant Farm in Israel. The treatment is supposed to be relaxing, assuming you're not scared of snakes, and different sized serpents are used to vary the pressure applied. Before you get too excited, the treatment is not currently available in Ireland.
Fishy Feet
If you would prefer to be nibbled on by something a little less toothy than a leech, tiny carp fish are now being used in pedicure treatments in Ireland and across the world. Feet are placed in a bath full of the little fish, which gently remove dead skin cells from the feet. Fish Therapy is painless but is said to tickle ferociously. Once the fish have feasted on your flippers you should be left with gently exfoliated, tingly toes.