Stocking Stuffers for Women
By Jessica, December 21, 2010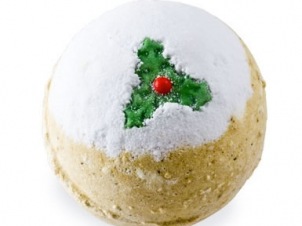 Let's be honest guys, you know as well as we do that the special lady in your life doesn't really mean it when she says it's the thought that counts this Christmas. Nothing will get you more encounters under the mistletoe than showering her with lots of little pressies, so we've put together a list of some of our favourite seasonal beauty gifts out there to help you on your way.
Tweezerman Christmas Bauble
The Tweezerman Christmas Bauble is a must-have for any passionate plucker. The Perspex tree bauble houses a small but powerful magnifying mirror and a mini version of the brand's award winning stainless steel Slant tweezer.
The Tweezerman Christmas Bauble is available in Arnotts, Unicare and McCabe's pharmacies
Price: €26.00
Available from: Arnotts, Dublin Unicare and McCabe's pharmacies
Lush Li'l Lush Pud Bath Bomb
The Lush Li'l Pud Bath Bomb is a great little stocking stuffer for women of all ages. It's part of Lush's special edition Christmas line and uniquely designed to resemble a tennis ball sized Christmas pudding. Simply drop in the bath for some festive relaxation.
Price: €2.50
Available from: Lush stores in Cork, Newry, Belfast and Dublin
All For Eve Nail file
The All For Eve glass nail file is a perfect Christmas gift for any manicure enthusiast. Extravagantly presented in a plastic case, the file is decorated with 14 Swarovski crystals in the shape of a heart. All of the net profits from sales of All For Eve products are donated to The Eve Appeal which raises awareness and funding for gynaecological cancer.
Price: £12.50 gbp
Available from: www.allforeve.co.uk 
ZPM Twinkle Christmas Stockings
If you have already bought all the stocking stuffers you need you could buy a truly fabulous stocking for everything to go into. A modern twist on a classic design, ZPM have a range of unique Christmas stockings shaped like high heeled boots in gorgeous fabrics.
Price: €20
Available from: www.zpm.com
Green Angel Herbal Silk Eye Cushion
Green Angel Herbal Silk Eye Cushions are handmade from natural Japanese silk and filled with flax seed and lavender. The cushions are designed to be cooled and draped over the eyes to alleviate eye strain, sinus problems and headaches. Keep in a sealed container in the fridge until ready for use, then squeeze to release the relaxing aroma of fresh lavender.
Price: €14.95
Available from: Pharmacies and salons all over Ireland or online through www.greenangel.com
Burt's Bees Silver mixed lip balm tin
This adorable Christmas tree ornament contains three Burt's Bees lip balms in beeswax, honey and pomegranate scents. Burt's Bees lip balms are made with real beeswax and are bursting with nourishing natural extracts – for luscious, smiling lips.
Price: €11.95
Available from: Pharmacies and natural health food shops nationwide.
L'Occitane Fizzy Bath Cubes
L'Occitane Bath Cubes are small and affordable and are a great accompaniment to any spa lover's Christmas present. They come in Green Tea, Lavender and Rose scents and each are individually wrapped in L'Occitane's trademark vintage style packaging. The pebbles dissolve to make bath water oily and soothing with a gorgeous scent. 
Price: €3 – €3.50
Available from: L'Occitane stores in Cork, Dublin, Galway, Limerick and Kilkenny
STEAMCREAM
You shouldn't judge a product by its packaging, but it's hard not to love STEAMCREAM's eco-friendly and incredibly funky tins. The multi-purpose cream is formulated using steam, making it gentle on the skin and suitable for all skin types. The Wraparound design tins with strings of heart ribbon are designed especially for thoughtful Christmas gifts.
Price: €11.28
Available from: Mise Beauty Dundalk or www.asos.com