All For Eve
By Jessica, September 20, 2010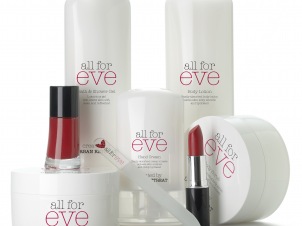 All For Eve was developed and launched by George Hammer, Chairman of The Urban Retreat Group after the death of his sister-in-law Nadia to Ovarian Cancer in 2008. All of the net profits from the products are donated to The Eve Appeal, dedicated to raising funds and awareness of gynaecological cancer.
There are eight products in the collection including a luxury bath and body collection which consists of a Bright and Beautiful Shower Gel, Buffed and Beautiful Scrub, Soft and Shielded Body Butter, Light and Luxurious Body Lotion and Smooth and Nourished Hand Cream. All of which were specially designed by Urban Retreat who run a number of spas including Urban Retreat, Harrods, one of the biggest in the world.
The products are free from parabens and are light and easily absorbed without leaving the skin feeling oily or sticky. They're infused with Jojoba and Organic Cucumber giving them a fresh scent. They are ideal for men and women and their simple white packaging means they're a great shape for bringing with you on the go.
Specifically for the ladies the collection includes the creamy 'Eve Red' lipstick created by Daniel Sandler, an equally bold red nail polish created by Sophy Robson and Swarovski Crystal Nail File with a beautiful crystal heart motif. .
In April this year All For Eve won in the four categories in which it was nominated at The Cosmetic Executive Women Beauty Awards; Best New Brand (mass) Best New Make Up (mass) Best New Hand & Nail Care Product (mass or prestige) and Best New Bath and Body Product (mass). This is just the start for the All For Eve range. They are currently working with brands including Elemis, Alpha-H, Lola Rose and Rock & Republic with a view to expanding the All For Eve range.
Every year, a million women worldwide are diagnosed with a gynaecological cancer, yet  fundraising and awareness of these cancers remains low. The Eve Appeal is determined to change this. All For Eve products can be bought directly from http://www.allforeve.co.uk/