Gifts Sets For Him
By Jessica, December 9, 2010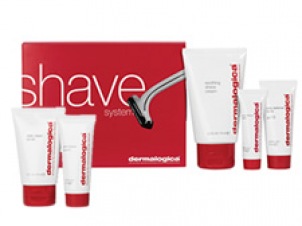 Even men deserve a little pampering at Christmas, and there's nothing better than a really practical and luxurious gift set. We picked a few of the best men's gift sets each full of no-nonsense products in a range of prices.
Dermalogica Shave System Kit
For men who are constantly on the go, the Dermalogica Shave System Kit is perfect to ensure they can keep their skincare routine while they travel. The kit includes everything needed to maintain a simple three-step regimen; a Daily Clean Scrub and Pre-Shave Guard to prepare skin, Soothing Shave Cream, Post Shave Balm and Daily Defense Block with SPF15 to refresh and protect. Dermalogica Gift Sets are available in spas and salons all over Ireland.
Price: €50
Available From: Dermalogica products are available in spas and salons all over Ireland and through www.dermalogica.com where a full list of stockists in available.
Anthony Logistics Give Him The Perfect Shave Kit
The Give Him The Perfect Shave Kit contains full sized bottles of some of Anthony Logistic's most popular men's products; the Glycolic Facial Cleanser, Pre Shave Oil, Shave Cream and After Shave Balm together in a black mesh dopp kit. Anthony Logistics is an award winning line of men's skincare products that offer solutions to many of the specific skin problem's men face. Their products are nature based, functional and tailored specifically for men. The Give Him The Perfect Shave Kit is available in Ireland exclusively through www.4men.ie
Price: €59.95
Available From: www.4men.ie
Lush Chillin' With My Gnomeys
At €8.50 this gift set is a perfect stocking stuffer or Secret Santa present. It contains a wedge of Lush's Snow Globe and Whoosh shower jelly, both scented with refreshing citrus oils. Shower Jelly one of Lush's trademark products. They can be used like shower gel by removing small pieces at a time or as a bar of soap as the gel keeps the shape of the tub when removed from its container. The Whoosh shower jelly is full of revitalising rosemary and balancing geranium and is scented with lemon, lime and grapefruit. It's incredibly refreshing and boasts anti-jetlag abilities.
Price: €8.50
Available From: Lush stores in Cork and Belfast and in Dublin on Henry Street and Grafton Street.
Cowshed Bullocks Sponge Bath
This set contains a selection of Cowshed's best selling products from their Bullocks range, which is specially formulated for men. The stylish wash bag contains a 100ml Bracing Body Wash, 20 ml Soothing Moisturiser, 20ml Smooth Shaving Cream, 20ml Refining Facial Scrub and a natural-fibre ramie buffer.
Price: €30
Available From: Harvey Nichols, Seagreen Pharmacy and Arnotts in Dublin, Mise Beauty in Dundalk, Alchemist Earth in Limerick and online through www.cowshedonline.com
Soap and Glory Male Varnish
The best feature about this gift set is the travel bag. It's black canvas with amplifier, Union Jack and Soap and Glory patches and is really generously sized. The bag is big enough for all the full sized bottles of shower gel, deodorant etc. so it can be used after all the products that came with it are used up. The set contains 50ml bottles of Soap and Glory's Clean of England Boosting Shower Gel, Shave to Love Shave Gel, Soap'er Man Hair and Body Wash, A Man's Got to Dew Facial Moisture Balm and Our Fragrance Eau Man Body Spray in funky red and silver bottles. Perfect if he needs a coat of Male Varnish.
Price: €20
Available From: Soap and Glory products are available in Boots and Harvey Nichols
Trilogy Hello Handsome Set
The Trilogy Hello Handsome Set is a great gift for men with a low maintenance skincare routine. The set contains 50 ml bottles of Trilogy's Face Wash + Scrub and Moisturiser with SPF15. The scrub is full of jojoba wax beads to gently scrub skin. Blended with nutrient-rich Avocado, Marula, Olive and Wheat Germ oils it's mild enough to use every day for healthy skin. The moisturiser contains shea butter, cocoa seed butter and marula seed oil to nourish and hydrate skin while protecting it from winter UV. Inside the elegant box the products come with a Hello Handsome unbleached cotton travel bag.
Price: €23.95
Available From: Pharmacies, department stores and health stores across Ireland. Also through www.trilogyproducts.com