Chocolate Skincare Products
By Jessica, April 13, 2011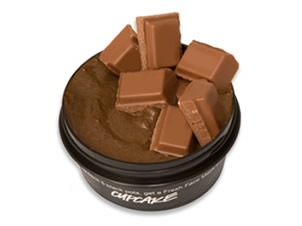 Chocolate isn't just for gorging on this Easter – apparently it's also for slathering all over your face and body. We all know (and cling on to the fact) that dark chocolate is full of anti-oxidants, but it is also said to have skin softening and anti-ageing properties. Another bonus is that it's high in cocoa butter – something you'll see listed in the ingredients of many high end moisturisers. So put down that bar, we've found the most indulgent ways to bring Chocotherapy Treatments to the home – for all the goodness without the calories.
Lush
Lush has some fabulous chocolate products on offer, from lip balms to bath bombs. Our favourite for skincare is the Cupcake face mask. Designed for oily or problem skin, it's perfect for younger chocolate fans and has a delicious mint chocolate scent. Containing Rhassoul mud to remove excess oil and cocoa butter and powder to soften skin, this is one form of chocolate that definitely won't give you spots. €8.90 for 75g from Lush stores.
Raw Gaia
Raw Gaia products use only cold-pressed, organic, vegan-friendly, chemical-free ingredients and are all made by hand. The main ingredient in this face pack is raw chocolate powder which they claim contains over 25,200 different antioxidants in just one spoonful – far more than its cooked version. Just mix with water leave on for 10 minutes for a smooth and glowing complexion and a chocolatey smell that will have you drooling. Raw Gaia products are available from www.rawgaia.com, the face pack costs £11.19 (around €13).
Philip B
Predominantly a high end hair care brand, Philip B uses chocolate and luxurious white truffle oil in products including shampoo and bubble bath. Our favourite is the Chocolate Milk Body Crème, which blends chocolate and vanilla for a sumptuous fragrance that lingers on the skin all day. Philip B products are available from from salonskincare.co.uk, the Body Crème is £30 (around €35).
Eminence Organics
Eminence Organics Chocolate Mousse Hydration Masque is for normal to dry skin types and aims to nourish and comfort in the way that only chocolate can. Containing cocoa as well as macadamia and almond oils, it leaves skin smooth, soft and hydrated with a rich chocolate fragrance. Eminence Organics products are available from Anne McDevitt on Wicklow Street in Dublin or their online store www.annemcdevitt.ie/shop/. The Chocolate Mousse Masque costs €48.
River Organics
River Organics products are handmade to order, meaning you get their organic ingredients at their freshest. Their Chocolate Micro Scrub contains aloe, green tea and rose, along with soothing essential oils and natural microdermabrasion crystals. The scent is intensely of cocoa and the consistency is soft and smooth. River Organics products are available to buy from riverorganics.net the scrub costs $32 (around €23).