Summer Skincare Essentials
By Jessica, July 17, 2011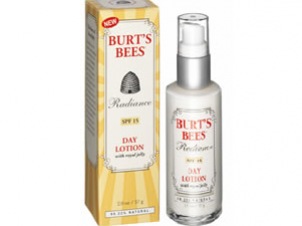 It's not just your wardrobe that may suddenly be feeling a bit last season with the recent burst of sunshine; your skincare regime could probably do with lightening up too. The following are some of the essentials you might want to add to your beauty arsenal now that summer is here, for a touch of SPF, a splash of moisture and a golden ray of shimmer.
Burt's Bees Radiance Day Lotion
Burt's Bees have released a glowing Radiance range designed especially for summer skin. The Day Lotion contains and SPF of 15 and smells like sunshine. Made with royal jelly – a unique substance made in the hive especially for the queen bee – it nourishes skin perfectly while boosting radiance and providing UVA and UVB protection. Suitable for both face and body, Burt's Bees is available from pharmacies and health food stores nationwide for €23.95 for 57ml.
Murad Oil Mattifier
As things slowly heat up you may find your skin is producing more oil than it does in winter months. If you're hoping for a more matte glow, try this Oil Mattifier from Murad for instant shine reduction and oil control for up to eight hours after application. It even has an SPF of 15 for sun protection. Available from spas and salons nationwide for €43 for 50ml.
Naturelle d'Argan Sublime Radiance Glittering Dry Oil
This sparkling wonder from Naturelle d'Argan is a blend of skin nourishing oils with a glimmering hint of bronzer. Ideal for skin finishing, the oil is beautifully moisturising and gives just a touch of instant sun-kissed glow. Massage into areas you would like to soothe and highlight and watch as it absorbs into the skin, leaving no streaky results or rubbing off onto clothes. Available from pharmacies nationwide for €19.95 for 50ml.
Monu Eye Cool Gel
As you switch to lighter cleansers and moisturisers for summer, you should also swap your heavy eye creams for lighter, cooling counterparts. The Eye Cool Gel from Monu revives tired eyes, reduces puffiness and even contains Vitamin C and Zinc Gluconate to help treat sun damage. Invigoratingly fresh for bright, beach-ready peepers, the gel is available from www.monushop.co.uk for £15.25 (€17 approx.) for 15ml.
Whish Shave Savour
This gorgeous gel is perfect for legs that are seeing a bit more hair removal now that summer is here. Highly moisturising for skin that has been waxed, shaved or lasered, it's particularly soothing after a day in the sun. What's more, it even contains a natural hair growth inhibitor so your pins will be silky smooth for even longer. Available in Lavender, Pomegranate, Lemongrass and Almond scents, Whish Shave Savour is €26.95 for 220ml from various salons nationwide. Call Carrigg Brady Beauty on 01 202 2928 for your nearest stockist.