Spa Treatments & Facials for Teens
By Jessica, April 9, 2013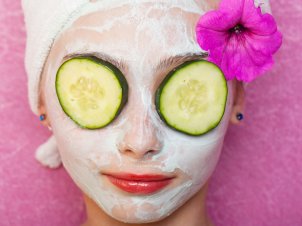 Irish spas are increasingly recognising the needs of younger customers in their treatment menus, with a growing number of teen facials now available around the country. Teenage skin can experience sensitivity when exposed to the products of traditional facials, and many of the treatments on offer are aimed at anti-ageing rather than the results that younger customers need. Teenage facials work more specifically with their skincare needs, addressing issues such as acne, dryness and sensitivity.
Dermalogica Clean Start Teen Facial at Buff Day Spa
Buff Day Spa in Dublin offers a number of treatments for teenage skin. Attend their Skin Scanning Bar for a skin diagnosis and product recommendations for just €20, or bring a friend and pay just €15 each. Their Dermalogica Clean Start Facial offers a more intensive treatment, with a double cleanse, steam, full skin analysis, exfoliation, extractions and customised mask over 45 minutes for €60.
Teen Spa at The K Spa
The K Spa at The K Club in Co. Kildare recommends that their teenage treatments are started from the age of 16. They offer two different facials, one signature treatment for oily skin and one from Aromatherapy Associates for all skin types. They also offer a Back, Neck & Shoulder Massage, Aromatherapy Associates Hair & Scalp Treatment and a Manicure and Pedicure for their younger clientele.
My First Facial by Darphin at Herbs & Roses by C Spa
Herbs and Roses by C Spa at The Carlton Hotel in Tralee offer Darphin's teen-specific facial which addresses the skincare needs of those aged 13 and over. It aims to introduce good habits and instil skincare knowledge that will benefit for years to come, and teens who attend the spa will be given a follow-up leaflet to help them extend the treatment benefits when they get home.
Spa Teen at The Heritage Spa
The Spa at The Heritage in Co. Laois has two facial options for teenagers, one with strawberry and one with papaya. Both start with a cleansing exfoliation followed by a Pevonia enzyme peel to clear clogged pores and blackheads. You can then choose either the strawberry mask for antioxidants, hydration and replenishment or the papaya mask for calming, desensitisation and moisturisation. Both are €70 for 45 minutes.
Teen Menu at Ciúin Spa & Wellness
Ciúin Spa & Wellness at the Slieve Russell in Co. Cavan has a dedicated menu for those between 13-16 years old. Try a 25 minute Taster Facial for €20 or a Fruity Surprise or Herbal Sensation Facial for €30 for 45 minutes. They also offer a Funky Feet pedicure and Rock Star Nails manicure for their teenage customers. Skin consultations and Elemis product recommendations are also available for advice on dealing with adolescent skin.
Some of the above treatments will require adult supervision or signature of a consent form for those under 18 years of age.