Spa Thermal Facilities
By Jessica, October 6, 2011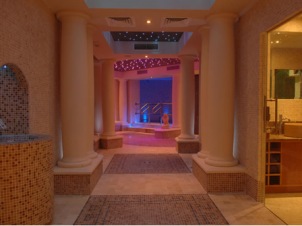 Thermal suites at spas no longer consist of a simple steam room and jacuzzi, today they boast exotic sounding rooms and treatments that can be rather confusing to the uninitiated. Here is our break down of everything from the Caldarium to the Kubeldusche to help you along your steamed and preened way.
Caldarium
Caldariums are particularly hot saunas, often containing a hot plunge pool. Benefits include improved circulation, cleansed skin, a clearer respiratory tract and relaxed muscle tension. You can find them at The Heritage Golf & Spa Resort, Co. Laois and Johnstown House Hotel & Spa, Co. Meath.
Crystal Steam Room
Crystal Steam Rooms are similar to traditional heated rooms, the key difference being that the steam is infused with essential oils and enters the room through a purifying crystal. Available from Revas Spa, Co. Limerick and V Spa, Co. Donegal.
Hammam
Hammams are a Turkish take on thermal treatments, going back to ancient times when public baths were immensely popular. Treatments usually incorporate a steam, a rub down by the hamam attendant and a massage. You can find them in The Wells Spa, Co. Wicklow and Ocean Spirit Spa at Hotel Westport, Co. Mayo.
Ice Fountain
Ice Fountains contain crushed ice for vigorously rubbing into the skin to boost circulation and lymphatic drainage. A refreshing follow up to a hot treatment, it also works well for closing cleansed pores. Available from Lir Spa & Wellness Centre, Co. Monaghan and ESPA at g, Co. Galway.
Kneippe Cure Pool
This shallow pool alternates a flow of warm and cool water as you slowly walk through the stream. The treatment is said to boost circulation, alleviate aches and pains and stimulate the heart. Available from Farnham Estate Health Spa, Co. Cavan and Monart Destination Spa, Co. Wexford.
Kubeldusche
A Kubeldusche is a large water-filled bucket attached to a rope and perched above the user. The idea is to gently tilt the bucket back and forth allowing the cold water within to splash down and refresh the skin after receiving a hot treatment. Available from Angsana Spa at The Brehon Hotel, Co. Kerry.
Laconium Loungers
These tiled loungers are gently heated from within to provide you with a warm place to pause and relax. Ideal for putting your feet up, some spas also have laconium rooms for a similar experience at comfortable temperatures. You will find laconium loungers at spas such as The Maryborough Spa, Co. Cork and The River Spa, Co. Meath.
Rasul Chambers
Rasul chambers combine mineral infused mud with hot steam for a deep cleansing experience. Mud is layered onto the skin in the heated room before being showered off within the chamber. Available in The Spa at Kilronan Castle, Co. Roscommon and Seoid Spa at Dunboyne Castle Co. Meath.
Salt Grotto
Salt therapy is becoming increasingly popular in Ireland and spas are beginning to offer similar treatments in their thermal suites. In most cases this involves salt infused steam being inhaled to improve respiratory function. The treatment is available from Parknasilla Resort, Co. Kerry and Ciúin Spa & Wellness, Co. Cavan.
Sanarium
This term is used for a heated room that falls somewhere between a sauna and a steam room. With the same detoxifying benefits, it is less humid than a steam room and not as hot as a sauna, making it more comfortable to sit in. Available at Spa Solis at Lough Eske Castle, Co. Donegal and Solas Croí Eco Spa in Co Wexford.
Tepidarium
This is a luke warm lounging area which was traditionally visited before the caldarium in ancient Roman baths. It is slightly cooler than a typical sauna or steam room and is generally used to gradually acclimatise the body before progressing to hotter rooms. Available at Fota Island Spa, Co. Cork and ESPA at The Ritz-Carlton, Powerscourt, Co. Wicklow.
Discover more Thermal Suites in Irish spas and other facilities through our Spa Search.