Salt Therapy
By Jessica, May 3, 2011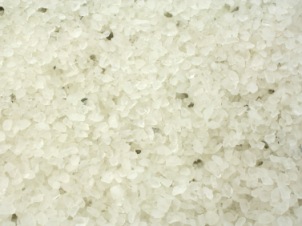 Halotherapy, or salt therapy, is the use of dry sodium chloride for the alleviation of respiratory, skin and other disorders. The treatment takes place in specially designed salt caves or chambers where patients relax while inhaling salt-infused air.
The concept of salt therapy first came about in the 1800s, when it was noted by a physician that the rates of respiratory problems among salt mine workers were unusually low. This was put down to the fact that they were regularly exposed to air saturated with saline dust.
Historically, the benefits of salt therapy go back even further. It is said that Hippocrates recommended salt inhalation as a respiratory treatment for the Greeks, while the Dead Sea has long been a destination of healing due to its uniquely high salt content.
The treatment is used for respiratory problems such as asthma, chronic bronchitis, pneumonia, coughs, wheezing, mucosal odema, sinusitis, tonsillitis and hay fever. The anti-bacterial and anti-inflammatory properties of dry salt also have the bonus of alleviating ear infections and certain skin conditions such as acne, dermatitis and psoriasis.
A treatment session involves simply sitting or lying in a 'salt cave', or room filled and lined with salt, and simply breathing in. Filtered air is fanned into the room by halogenerators, which crush and disperse salt grains in various micro-sizes.
The variation in size allows for the larger particles of salt to catch in the nose and throat while the smaller salts reach deep into the lungs. This is said to clear any bronchial inflammation, cleanse and remove pollen particles from the airways, strengthen the immune system, reduce snoring and improve quality of sleep.
One of the benefits of salt therapy is that it's completely drug free, so it's safe to use in conjunction with any other medications you may be taking. Salt therapy is said to bring longer term improvement with regular sessions as opposed to the temporary relief provided by medication. It is also suitable for children, with most salt spas allowing parents to accompany the child receiving treatment free of charge.
Salt therapy can be found at Spirit One Spa, Galway; Salt Therapy Spa in Malahide and Blackrock, both in Dublin; and Salt Cave Climatherapy Clinic in Maynooth.