Rasul Chambers
By Jessica, June 29, 2011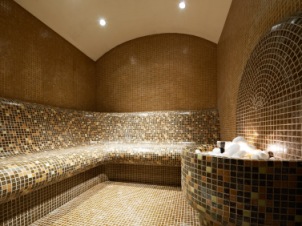 Rasul chamber treatments involve soothing the skin with mineral infused mud and hot steam, a practice that originated in Turkey in ancient times. The chambers themselves are traditionally small rooms lined from floor to ceiling with colourful mosaic tiles.
The treatment is designed to leave skin feeling moisturised and firmed as it absorbs nourishing minerals from the mud. It also has a detoxifying effect on the skin, which is enhanced by the hot steam. Muscles are warmed and loosened in the process, making it a good choice if you suffer from aches and pains or are preparing for a massage.
In the chamber you will find a number of different types of mud which you coat onto the skin. Steam is piped into the room to moisten the mud and you can either rub it in for gentle exfoliation or simply sit back and relax. After the steam, showers will come on to rinse away the mud and leave the skin glowing.
Many Irish spas offer group bookings of rasul chambers, so you and a partner or group of friends can have exclusive use of the room for a set period of time. Most fit up to four people and sessions in the chambers can be one of the more fun group treatments you can receive at a spa.
No therapists are involved in a rasul chamber treatment, you apply the mud by yourself or with the help of a friend or partner. Most spas still recommend that you book the chamber in advance to ensure you get a private session and your group won't be disturbed by other spa guests.
Rasul chambers can be found in Revas Spa, Co. Limerick; Ciúin Spa & Wellness Centre, Co. Cavan; The K Spa, Co. Kildare; Seoid Spa, Co. Meath; Angsana Spa at The Brehon Hotel, Co. Kerry; and a number of other spas around the country.