Romantic Bath Recipes
By Jessica, February 7, 2012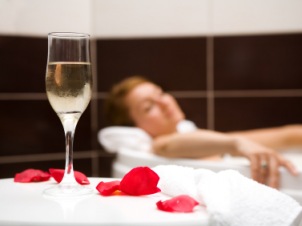 Put a romantic twist on your next bubble bath by adding a few choice ingredients and sharing it with a special someone. The following recipes will help you to recreate the aromas and atmosphere of the spa in your very own home – no hot tub required.
Fizzing Champagne Bath
It goes without saying that a chilled bottle of bubbly will add a touch of romance to your bathtub's edge – but did you know that you can add a splash to the water as well? Try the following concoction for a whole new kind of bubble bath; believe it or not it can actually help to detoxify and tone the skin:
250ml Champagne
100g Epson Salts
Teaspoon of Honey
A few drops of your favourite essential oil (optional)
Briefly heat the honey in the microwave then combine with the other ingredients in a bowl. Simply pour the mixture into the filled bath and serve the rest of the bottle in two glasses!
Chocolate Milk Bath
Not just a special treat to devour while taking a soak, chocolate is another potentially beneficial addition to the water. Chocotherapy involves the topical application of cocoa to the skin for its anti-ageing and cellulite-busting effects. Here's how to make your own hydrating chocolate bath at home:
125g Good Quality Cocoa Powder
250ml Milk
400ml Unscented Bubble Bath (for foaming effect)
Whip the ingredients together until blended and slightly frothy (it may help to heat up the milk and cocoa powder first), then add to the warm water of your bath. You can also throw in a glass of wine to enhance your bath with the benefits of vinotherapy.
Strawberries & Cream Bath
There are plenty of bath recipes out there involving strawberry scented oils, but the best result comes from using the real thing. Using fresh strawberries will not only create a delicious scent and tint the water pink; it will also treat your skin to the vitamins and gentle exfoliating acids in the fruit.
200g Strawberries (around half a punnet)
200ml Cream
400ml Water
This one is easiest to do with the assistance of a blender – simply add all the ingredients and mix until smooth. You may want to strain the resulting liquid for strawberry seeds before adding it to your bath.