Pregnancy & Baby Skincare Brands
By Jessica, February 28, 2013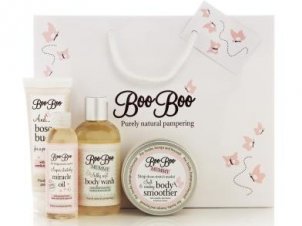 Hormonal changes during pregnancy can have a huge impact on your skin, from increased oil production to newfound sensitivities. At the same time, many products you would have used before are no longer suitable. Common ingredients such as Retin A, salicylic acid and certain essential oils for example, are not recommended during pregnancy. Below are popular pregnancy skincare brands available in Ireland, with most also offering gentle products for your newborn too.
Boo Boo
Specially formulated to treat the 'boo boos' of new mothers and their impending bundle of joy, Boo Boo is a dedicated maternity brand. Choose from bath and body products devised to keep skin supple and stretch mark-free, or prepare for your new addition with their range of gentle washes, balms and nappy rash creams. What's more, they also make beautiful gift sets to bring along to baby showers and Christenings. Boo Boo is available from Arnotts and maternity stores nationwide.
Burt's Bees
Burt's Bees' collection of gentle, natural skincare products is ideal for use during pregnancy. Mums-to-be can enjoy body oils, 'belly butter' and leg and foot creams, while products for baby include nappy creams and powders. A range of gift sets are also available for treating both mother and baby to some well-deserved rest and relaxation. Burt's Bees is available from pharmacies and health food stores nationwide.
Earth Mama Angel Baby
Earth Mama Angel Baby specialises in all things maternity. With products for pregnant women, new mothers and babies, it uses only ingredients suited to the most sensitive of skins. As well as soaps, washes, oils and creams, they also offer things like organic, caffeine-free teas for morning sickness and heartburn, and sprays to ease nausea or anxiety. The brand is available in Ireland from health stores, pharmacies and maternity shops.
Mama Mio
Mama Mio originated as a pregnancy skincare brand, but their products proved so popular they were soon being used by everyone. Their line is free from harmful chemicals and includes nourishing creams and oils for the first nine months, and firming and tightening lotions to help with post-partum recovery and beyond. Products are available from Arnotts in Dublin and a number of other stockists around the country. The brand also has a range of pregnancy spa treatments available in Buff Day Spa in Dublin, Fota Island Spa in Cork and a several other spas.
Mario Badescu
Mario Badescu is a natural skincare line with limited distribution in Ireland. However its clean ingredients and reasonable prices have made it an international success with pregnant women. Originally a brand aimed at treating acne and other skin conditions, it now has a number of products recommended for pregnancy. Lightweight SPFs protect from Melasma, while their oils and lotions help prevent stretch marks. Available from Harvey Nichols in Dundrum and various online retailers.