Ole Henriksen Truth Serum Collagen Booster
By Jessica, November 11, 2010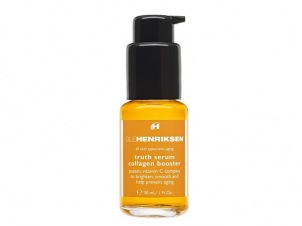 Ole Henriksen's most recent hero product the Truth Serum Collagen Booster was voted Natural Health Magazine's 'Miracle Worker' award earlier in 2010. With celebrity fans like Mark Wahlberg, Charlize Theron and Katy Perry, Ole Henriksen already have a cult following in the States. We put it to the test to see if it works on winter damaged Irish skin.
Designed to be used day and night this serum is full or natural ingredients like orange and grapefruit extract, green tea extract, rosehip extract, vitamin E. It is also packed with vitamin C which heals and strengthens collagen and promises to reduce the appearance of wrinkles.
The first thing I noticed about the Ole Henriksen Truth Serum is the smell. It's incredibly sweet almost like cough medicine so I was expecting it to be really sticky, but thankfully it wasn't.
If you're not used to serums they feel quite strange. Moisturisers make skin feel softer almost instantly but serums are oilier so they take more time to sink in. The truth serum goes on really smoothly and isn't too sticky. I used this at night so I was able to sleep while it worked its charm. The next morning there was no stickiness, it absorbed cleanly into my skin which felt soft and nourished.
Reading about the product online it has received some incredibly mixed reviews. It's the marmite of face serums, people either rave about it or find it does nothing for them. At €50 for a 30ml bottle it's a bit of a gamble but I found after two weeks of using it every night my skin was a lot brighter whereas it normally appears duller in winter.
Ole Henriksen Treatments are available at Aqua Beauty Dublin and The Radisson Spirit One spa in Galway. Products can be bought for home use in Harvey Nichols Dublin.
Good for: Mature skin, uneven skin tones.
Price: Around €50 for 30ml