Nubo Diamond Peel & Reveal
By Jessica, June 5, 2012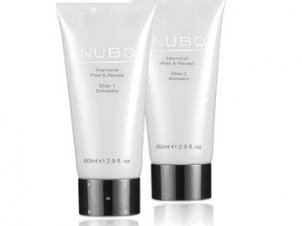 Nubo is a rejuvenating skincare brand that aims to fight free radicals and boost skin metabolism. Results are said to be visible and lasting, with products designed to maintain their effects as opposed to creating short term improvements. They are free from parabens, SLS, petro-chemicals, and synthetic colours and fragrances.
NuBo Diamond Peel & Reveal
This at-home treatment from Nubo promises to give the results of professional microdermabrasion – diminishing lines, eliminating dead skin cells, improving luminosity and clearing the way for bio-active ingredients to be delivered to the deeper layers of the skin. The facial consists of two steps – the first an exfoliator which polishes skin, and the second an activator which stimulates cell turnover.
The exfoliator comes out a thick glittery white, looking like something you would have excitedly coated all over yourself aged five. It goes on extremely heavy and requires quite a big dollop of product to spread across the face. The exfoliating beads are tiny and scratchy, and rubbed in for a couple of minutes the consistency is just a couple of notches short of feeling like sand.
This is followed by the activator, a completely clear gel which transforms the exfoliator into a white mousse. This mixture is rich and gooey and takes some rinsing off a minute later. Even when the creamy remnants have disappeared the little gritty bits still cling to the skin for all they're worth. These particles (apparently micronized diamonds) would probably give the skin a bit of sparkle if it weren't for the fact that they're just too big and rather irritating.
Skin is left incredibly smooth and soft after use, and there is definitely not a dead skin cell to be found. It is a tiny bit drying, and following up with moisturiser led to the discovery of even more 'diamonds' scattered across the face. But overall a very thorough exfoliating treatment, perhaps best left to less sensitive skin types. Nubo Diamond Peel & Reveal is available from www.nubobeauty.com and other online retailers for around €65. Or, try Omorovicza's very similar Copper Peel Treatment for a less abrasive alternative.