Kate Somerville ExfoliKate
By Jessica, July 24, 2012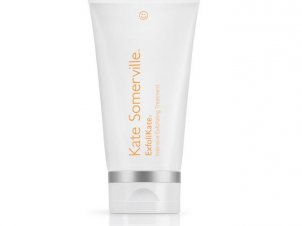 Kate Somerville is a self-proclaimed 'skin health expert' hailing from a skincare clinic in Los Angeles. Her line of products aims to renew skin, restore health and deliver results, with the ExfoliKate scrub said to be the next best thing to seeing Kate herself for a facial.
Kate Somerville ExfoliKate
An intensive exfoliating treatment designed for all skin types, ExfoliKate works both physically and enzymatically for a dual exfoliation approach. The fruit enzymes responsible for the extra kick in the product are said to remove dead skin cells and bacteria, improve clarity, fight acne, polish the complexion and add a healthy glow.
Directions are to rub an even layer of the pine-scented green scrub in circular motions across the face. Hardier skin types can then leave the paste on for up to two or three minutes (sensitive types are recommended just one) to let the enzymes do their work. Not your average instructions for a standard exfoliator, a quick perusal of the accompanying leaflet revealed the phrase that has struck fear into my very pores ever since the Eminence Organic Polisher debacle: redness may appear up to 20 minutes after use due to increased circulation.
Usually not that easily irritated, I have discovered my skin has a flaming red aversion to many of these circulation treatments. And yet, this one was just tolerable. I'd be lying if I said there wasn't a slight sting to it, but it's not excruciating and the results are worth it. Rinsing off the pesto-like paste a terse 60 seconds later, skin was left gleaming and, mercifully, inflammation-free.
ExfoliKate not only obliterates dead skin cells, it also gives a little mini-treatment boost to skin's natural radiance. ExfoliKate Gentle is on offer as well if you think the standard issue might be too abrasive for you. My only minor issue with this product was the assortment of parabens at the very end of the ingredients list. ExfoliKate is available from Space NK in Harvey Nichols and retails at around €60 for the 60ml size or around €130 for 150ml.