Kate Somerville
By Jessica, July 17, 2012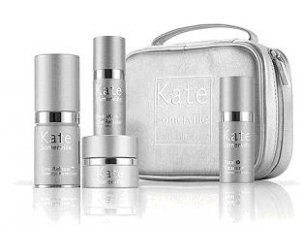 Kate Somerville is a skin health expert based in Los Angeles. Specialising in facial treatments, she has developed a line of skincare products to replicate the results of her spa rituals at home.
The brand was created with the aim of renewing skin, restoring health and delivering results. Using advanced science, progressive ingredients and healing botanicals, the belief is that a glowing complexion can be brought out in anyone, regardless of skin type, skin concerns, age, gender or ethnicity.
Kate Somerville products are designed around her unique, five level Skin Health Pyramid – each level representing a different stage towards achieving overall skin health. The first is to Protect and prevent environmental damage. Second is to Hydrate, followed by Feeding skin with essential nutrients. Skin must then be Stimulated to promote collagen production and boost circulation. Last of all is Detox, to eliminate impurities.
According to Somerville, each of these steps must be incorporated into a daily skincare routine using products for your skin type. The suggested products consist of cleansers, exfoliators, masks, polishers, moisturisers and a number of intensive correctional treatments. Sun creams, supplements and products for the body are also available.
Lines are divided by the standard normal, oily and combination skin types, as well as a selection for acne, anti-ageing, anti-ageing & acne, anti-ageing & sensitive, sensitive & dry and sensitive & oily. Kate Somerville products are available from Space NK in Harvey Nichols, Co. Dublin.