Eminence Organics Facial
By Jessica, May 10, 2011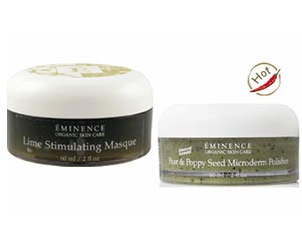 Eminence Organics is a Hungarian brand specialising in concentrated natural skincare. Their Pear & Poppy Seed Microderm Polisher and Lime Stimulating Masque can be used together as an exfoliating and stimulating facial, containing between them apple, walnut, various vitamins and minerals, and, forebodingly, nettle.
Pear & Poppy Seed Microderm Polisher and Lime Stimulating Masque
The combination of these two products 'will result in a tingling, hot sensation and redness to the skin' the directions warned. But sure that's what they all say I dismissed, I've tried it all before. On the Microderm Polisher went, lumpy and green, leaving great big globs dotted with poppy seeds splattered across my face. Looking forward to a bit of pampering, I sat back and waited.
The prickling began slowly, like a faintly uncomfortable skin sensitivity. Assuming this to be the aforementioned tingling I was rather horrified to find it gradually escalating to full blown, agonising pins and needles stinging like nobody's business. Eyes watering and teeth gritted, I gave it about eight minutes before slapping the Lime Masque on top of the polisher, eyeing the hot chili symbol on the accompanying leaflet with trepidation.
The pins and needles subsided at least, but they were replaced by a sensation akin to being slapped around a severely sunburned face. Five long minutes later, it was finally time to dunk under an icy cold tap. But it didn't end there. Rising from the sink I was greeted with an alarmingly red face in the mirror, which continued to burn a violent shade of puce for over an hour after the treatment. Frantically clawing for the directions, they assured that 'This is not an allergic reaction!', it's actually the result of an instant boost to circulation under the skin's surface.
This is nothing like I have ever experienced in an at-home treatment. It hurts. Badly. But – and I really don't want to say this – my skin definitely had something different about it the next morning, I suppose you could call a glow. Not the incandescent flaming glow of the previous evening and not a believe-you-see-it-because-it-cost-you-a-fortune glow, actually that much sought after, elusive glow. Typical, of course. Perhaps this one might be retrieved from the dark corners of the bathroom cabinet to which it has been banished after all.
Eminence Organics products are available from Anne McDevitt on Wicklow Street, Dublin 2, or from their online store www.annemcdevitt.ie/shop. The Pear & Poppy Seed Microderm Polisher costs €42 and the Lime Stimulating Treatment Masque is €59.