Good for Your Skin Fake Tans
By Jessica, August 9, 2012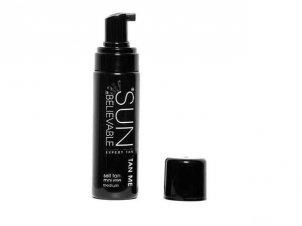 Whether you're sensibly avoiding sun exposure, or it just feels like the sun is avoiding you, fake tans are a must for the Irish summer. Product offerings are getting better all the time, with many formulations now containing ingredients that nourish while you tan. The selection below covers every shade on the bronzing spectrum with skin treats such as argan oil, shea butter and aloe vera also included.
Sun Believable
Sun Believable contains naturally derived, EcoCert approved DHA as well as nourishing aloe vera and lemon oil. The Tan Me mousse emerges with a slight pistachio-green tinge but spreads easily and dries quickly. Some blending is required for an even result, but a morning-after shower reveals a deep natural bronze. Unlike most tans that claim to be odourless, this one really is free from that tell-tale scent. At €38 for 200ml it's a little on the pricey side, but it's worth it for an easy one-application colour. Available from www.sun-believable.com.
Little White Lie
Little White Lie tans are free from parabens and enriched with Moroccan argan oil to moisturise the skin as it tans. I gave the Darker Tanning Lotion a whirl and was surprised to find it actually smells better than my regular body moisturiser and left skin noticeably soft. The cream is tinted, making application straightforward, and results are gradual and natural. Other options in the line include wash-off tans in both light and dark shades. Little White Lie products are available from Boots and the Tanning Lotion is €17.25 for 125ml.
Tantastic
Tantastic products use 100% natural DHA which is, like Sun Believable, certified by EcoCert. Paraben-free and enriched with Vitamin E, products are presented in
colourful retro packaging. The liquid tan is not unlike he-shi's similar tinted offering, but perhaps slightly paler in colour. Depth builds with further applications, mercifully without reaching an undesirable orange hue. Gels, mousse, spray and bronzers are also available. Tantastic can be found in pharmacies nationwide and prices range from €15.50 to €27.
The Body Shop
Honey Bronze Gel from The Body Shop contains ethically-sourced honey to hydrate the skin without clogging pores. Specially formulated for the face, it can be worn over, under or without make-up. This gives skin a nice healthy glow if forgoing foundation but it does wash off at the end of the day rather than building with further applications. Ideal for a commitment-free colour, the Honey Bronze Gel is available from The Body Shop stores for €18 for 30ml. An oil version for use on the body is also available.
Million Dollar Tan
Million Dollar Tan boasts organically made products that are paraben and cruelty-free. Water-based to prevent clogged pores, the Cabana Tan Extreme mousse is the darkest shade in the range and smells mildly of coconuts. While the deep mahogany tint is a little difficult to spread, and the applicator sponge is time-consuming at best, the somewhat streaky results do even out after a shower. Ideal for those who favour a very dark colour, a lighter shade is also on offer. Available in Sam McCauley salons in Carlow, Waterford and Wexford, Cabana Tan Extreme is €27.50 for 236ml.
Comfort Zone Sun Soul Tan Prolonger
Designed for use after a day in the sun, Tan Prolonger from [Comfort Zone] contains shea butter to help nourish skin and retain colour. Thankfully, it also gives a touch of tan to those of us who aren't so lucky as to have spent a day soaking up some rays. The result is a very subtle touch of odour-free colour – perfect for pale Irish skins that don't want to overdo it. The [Comfort Zone] Sun Soul range is available from Harmony – A Touch of Spa and Fota Island Spa, and the Tan Prolonger is €36 for 150ml. Call 048 9046 1665 for nearest stockists.