Natural Self-Tanning Products
By Jessica, July 5, 2011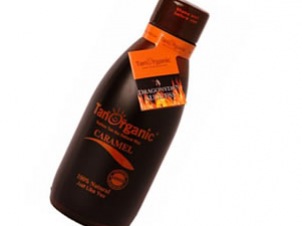 Streaky orange legs, questionably dark palms, and the smell of stale, soggy biscuits in the air… Irish summer has arrived. As our pasty Celtic skins cautiously emerge from the black opaques of winter, consider ditching the fake tan products of previous years and embracing naturally produced and naturally coloured alternatives. These are our favourites, with better-for-your-skin ingredients, shades that adapt to your individual skin tone and pretty summer scents.
Rockstar Tan
Rockstar Tan is an Irish brand that uses natural and organic ingredients such as hemp seed oil and aloe vera in their tanning products. Their Groupie tan comes in mousse form and the non-synthetic scent is somewhere between almonds and raspberries. Application is easy, streak-free and the resulting colour is natural and easily built on. Available from Arnotts and Clery's department stores in Dublin, pharmacies nationwide and larger Boots stores for €29.99 for 237ml.
Tan Organic
Another Irish offering, Tan Organic is best known for its Dragons' Den success. Ingredients are natural and organic and promise to preserve and hydrate skin while tanning. In spite of the inexplicable choice of mahogany brown and electric orange as the packaging colours, the tan itself is reasonably natural once the excess is showered off the next morning. Unfortunately the chemical-like scent is a bit of an assault on the nostrils and the liquid consistency makes for streaky results unless great care is taken. Available from pharmacies and salons nationwide for €34.99 for 240ml.
He-Shi
One of the most popular natural tan brands on the market, He-Shi products are free from parabens and drying alcohols. The Express Liquid Tan is, as the name suggests, completely liquid. Like with Tan Organic, this means application has to be particularly meticulous, but it spreads well and is just dark enough to see where it's going. The colour is natural and the scent borderline non-existent. Express Liquid Tan is €26 for 100ml or €46 for 300ml from Brown Thomas stores, spas and salons nationwide.
Lancôme
Lancôme have been in the tanning market for some time but have recently added an anti-ageing tanner for the face to the range. Flash Bronzer Anti-Age hydrates and boosts collagen production and also contains an SPF of 15. Available in two shades, it goes on worryingly dark but fades nicely. It's not the creamiest of textures and takes a bit of work to spread evenly but the resulting colour is subtle and natural. Available from Lancôme counters nationwide, the Bronzer is €35 for 50ml.
Phytomer
Phytomer Sun Radiance Self-Tanning Cream was the hands-down winner when it came to fragrance – reminiscent of sunscreen, this smells like holidays in a bottle. As with all Phytomer products, most ingredients are derived from a marine environment. The end colour is natural, but the whiteness of the cream on application means a little extra care is needed for streak-free results. Available from Harmony Wellness Suites at Manor West, Co. Kerry; Tranquility Spa, Co. Wexford; and The Spa at Hodson Bay, Co. Westmeath for €37 for 125ml.
Jane Iredale
Jane Iredale is a mineral make-up brand that has recently released a self-tan by the name of Tantasia. This one was a close second to Phytomer when it came to fragrance, it's fresh and citrus-like without being heavy. One of the most even results, it goes on quite dark, dries in perfectly and is nicely hydrating. Available from The Oasis Spa, Co. Kilkenny; Rain Spa and Wellness Clinic, Co. Limerick; and a number of salons nationwide for €31 for 124ml.