Creating a Spa Day at Home
By Jessica, July 19, 2012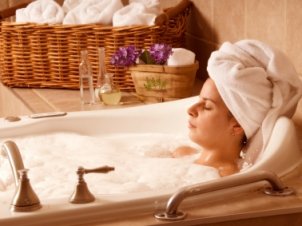 While we may not always have the time or resources to spend regular days at the spa, it's easy to re-create the treatments and atmosphere of one at home. Try these easy steps for some well-deserved me-time and transform yourself from head to toe without setting foot outside the front door.
Make your Appointment
Just because you're having your spa day at home doesn't mean you shouldn't put some thought into a time and date that suits. Block off a specific day or afternoon and stick to it. If you can, make it a monthly or fortnightly treat and incorporate all of the beauty routines you can never find the time for.
The Full Package
Time at a day spa usually involves more than just treatments. For the full experience, prepare some healthy meals in advance even if it just means stocking up on extra fruit and veg. You might also consider including a relaxing walk, a swim at the local pool, or even just a yoga or meditation practice in your living room. These are small touches that make or break a truly pampering spa day, but are often neglected in daily life.
Set the Scene
For a genuinely relaxing day, you will need to switch off from the outside world. Take the phone off the hook, turn off the laptop and get the house to yourself if you can. Choose a peaceful soundtrack, preferably a soothing meditative CD, and light your favourite scented candle for a flickering, fragranced atmosphere.
Product Placement
Fill the bath and make sure all the products you will need are at hand. Essential oils, scrubs, leave-in conditioner, face mask, or anything else you want to include. Make sure you have plenty of cloths, hand towels and loofas close by as well. You may even want to make some of the products yourself, such as a simple body scrub of kitchen cupboard ingredients.
Belle of the Bath
For a full body overhaul, start with a good body brushing moving from the toes to the heart. If you're including any body masks or treatments, now is the time to apply them – simply shower off before getting into the bath. Every good spa day involves a facial, so make sure your skin is completely clean, then pack on a face mask before, during or after your bath. Soak for as long as you like, maybe applying a hair treatment while you do. Finally, give yourself a once over with a luxurious body scrub, then rinse off with cool water.
And Relax…
After your bath, lash on a really rich moisturiser or body oil (or get someone else to massage it in for you), slip into a fluffy robe and enjoy a smoothie or green tea. Indulge in a pampering manicure, pedicure, or both – complete with hand and foot massage instead of a rushed polish. Put your pampered feet up and spend the rest of the day as you wish.