Body Scrub Recipe
By Jessica, November 21, 2007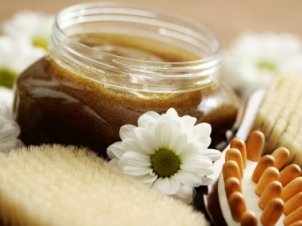 You can buy salt scrub in a fancy jar for €20, or you can make your own salt scrub for a fraction of the cost. A salt scrub is one of the easiest home spa products to make and a great spa gift.
With a home-made body scrub, you can exfoliate your body at home instead of paying €90 or more for a salt glow at the spa.
Body Scrub Recipe
Ingredients:
1/2 cup oil. Sweet almond, grapeseed or rice bran oil are all good choices.
1 cup sea salt. Baleine is a good choice. You can also substitute sugar, which is gentler.
5 drops essential oils. The oil you choose for your body scrub depends on the result you want. Lavender is relaxing, lemongrass is refreshing and rosemary is stimulating.
Directions:
Combine the oil and salt in a bowl and mix well. Add essential oil and combine well.
To use, apply to dry skin using circular strokes to exfoliate the skin. Sit on the side of the tub to keep the scrub from making a mess. Don't use a salt scrub if you have any cuts in your skin.
Shower off or follow with a warm bath.