Homemade Face Masks for Every Skin Type
By Jessica, March 26, 2012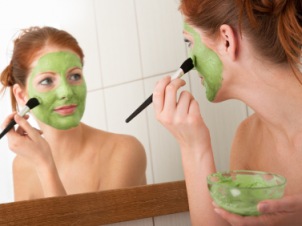 It's been awhile since your last spa facial and your skin is suffering for it. You used up the dregs of your last face mask weeks ago and can't quite bring yourself to shell out for another tiny tube. If you're tired of sacrificing radiant skin during spa droughts, look no further than the kitchen cupboard for inspiration. Try some of these at-home recipes for completely natural face masks that will leave you glowing.
Boost Normal Skin
This mask is suitable for nearly all skin types and makes for a nourishing at-home treatment. All you have to do is mix up two egg whites with two tablespoons of plain yoghurt and leave on the face for around five minutes. Rinse off with warm water for gleaming healthy skin.
Brighten Problem Skin
This is a really simple mask for tightening pores and brightening the complexion. All you have to do is blend half a peach with half a cucumber and apply the mixture to your face for 20 minutes.  This combination is rich in Vitamin A, enzymes, silica and two different acids which rejuvenate and reduce puffiness.
Cleanse Mature Skin
Mash up two or three figs and combine them with a tablespoon of olive oil for this easy mask.  Figs are full of antioxidants, vitamins and enzymes which are great at peeling off dead skin cells.  They are also packed full of little seeds which are perfect for exfoliating, so rub this mixture into your face a little bit before leaving it to work its magic for 5-10 minutes.
Hydrate Dry Skin
Take half an avocado and 2-3 tablespoons of honey and blend the two together into a creamy consistency. Avocado and honey are both intensive moisturisers, and the mask is also great for conditioning damaged hair if you want to make an extra batch. Simply apply to skin or hair and leave on for around 10 minutes before rinsing off.
Protect Sensitive Skin
Mix a tablespoon of ground oats, a tablespoon of raw honey and half a teaspoon of royal jelly – the result should be creamy and resemble porridge.  Lash it on to your face and leave there for twenty minutes while the oats reduce wrinkles, the honey soothes and moisturises, and the jelly boosts cell regeneration.