5 Spas Redefining Luxury in Ireland
By Jessica, June 21, 2022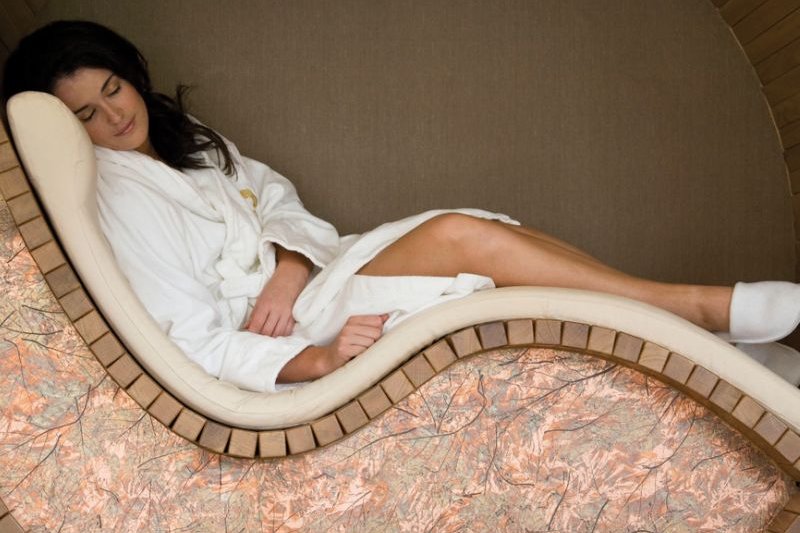 Opulence and exclusivity are no longer the best indicators of a luxury spa break. Today, spa experiences are less about flashy furnishings and more about mindful self-care that adds value to your life. Luxury is personal, and a truly luxurious spa break is one that takes you on a unique wellness journey tailored to your individual needs.
While some of us crave alone time in natural surroundings, others are restored by quality time with friends. These top spas in Ireland are redefining luxury in a range of different ways, and promise to deliver a truly holistic approach to wellness.
Luxury is… Immersive Experiences
A quick facial or massage may offer a touch of pampering in a busy schedule, but surrendering to a full luxury experience usually requires a more immersive approach. Combine your treatment with other restorative activities during your next spa break for full body and mind replenishment. Choose from gentle yoga and nature strolls, or opt for a refreshing hike or sea swim. Immersive spa experiences are all about finding the time to do what you love.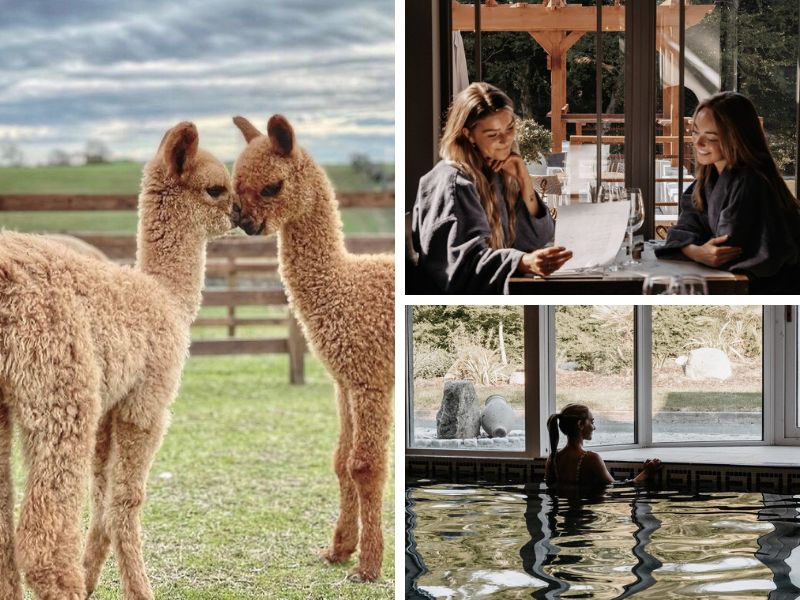 Powerscourt Springs Health Farm, Co. Wicklow
If an immersive spa experience is your idea of luxury, Powerscourt Springs Health Farm is the destination for you. Set on 38 acres of wilderness in Co. Wicklow, this spa offers guests an authentic wellness experience."Luxury in our view is having the freedom to easily access the things that enhance the quality of your life,"says Adrienne Stewart, Owner of Powerscourt Springs. "Luxury is often equated with staying at the most expensive destinations or buying material goods, yet even for the wealthiest of people, luxury is often having the privilege to enjoy leisure time and create memorable experiences."
In addition to the comprehensive list of spa therapies and rituals on offer, spa-goers can enjoy self-guided forest bathing, river meadow walks, one-to-one life coaching, yoga and meditation classes. Or, for a really unique spa break, you can try animal therapy with Powerscourt's three resident Alpacas.
Looking for even more immersive spa experiences in Ireland? Check out these spa activity breaks, spa golf getaways and hike and spa breaks.
Luxury is… Sustainability
Many spas in Ireland are taking a green approach to luxury and attracting a growing number of spa-goers who seek sustainable experiences. Sustainability is emerging as one of the most important trends in the spa industry, with eco-friendly treatments, activities and nutrition all in high demand. If your definition of luxury involves being kind to the environment as well as to your mind and body, then you have a range of leading Irish spas to choose from.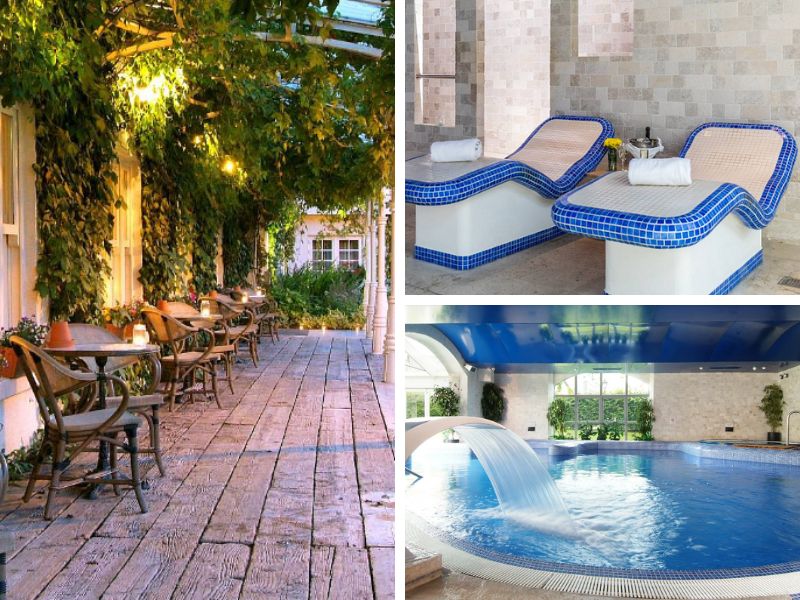 The Wells Spa at Brooklodge & Macreddin Village, Co. Wicklow
Brooklodge & Macreddin Village in Co. Wicklow has been committed to 'keeping it green' since it opened in 1999. From there, it successfully expanded into a self-contained village featuring Ireland's first Certified Organic Restaurant – The Strawberry Tree. All of the water used at Macreddin Village is sourced and purified from natural springs on site, and The Wells Spa's heating and hot water comes from Ireland's largest hotel geo-thermal heat recovery system.
All of the skincare products used at the spa are also natural and organic, with VOYA, ILA and Flourish Organics all on offer. "Throughout The Wells Spa, care is taken constantly to improve luxury and sustainability. Guests can indulge in an array of treatments where a product range shares the natural and organic philosophy of Macreddin Village."according to the Spa Manager.
Luxury is… Adult Only
Whether you have children or not, an adult only spa break guarantees a calm atmosphere and peaceful shared spaces. If you're looking for respite from the everyday stresses of family life, this type of spa break offers the sheer luxury of switching off. And, aside from the obvious benefits, choosing an adult only spa hotel also means you don't have to worry about booking during peak times, such as summer holidays or mid-term break.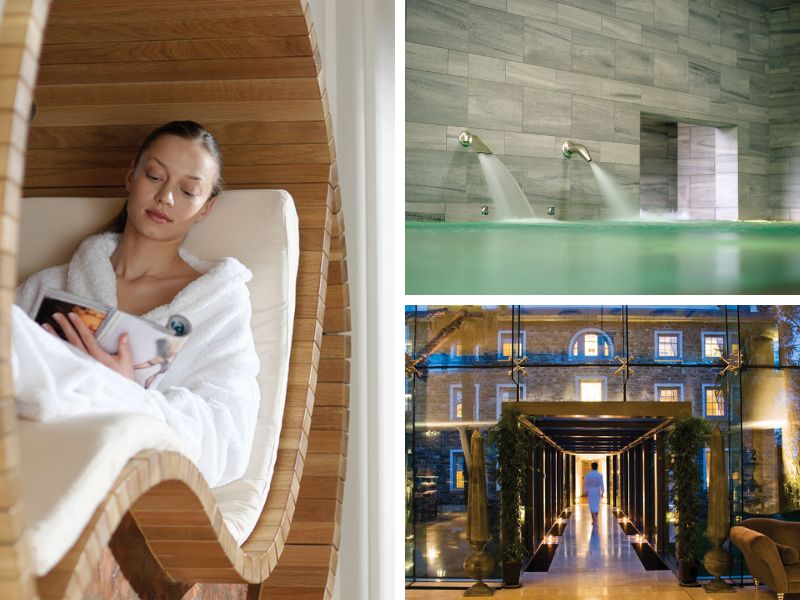 Monart Destination Spa, Co. Wexford
For the ultimate adult only spa experience, you can't go wrong with Monart in Co. Wexford. With a keen focus on relaxation, this resort is recognised as being among the top 1% of all 5 star hotels in the world. Unwind with tailored spa treatments, state of the art thermal facilities and exceptionally cosy rooms. All guests must be over the age of 18 and Monart encourages guests to wear their fluffy white robes and slippers for the duration of their stay.
Of course, you can still get dressed up for an evening of delicious food at Monart Restaurant, especially if you're enjoying some quality time away with friends or your significant other. Specialist retreats are on offer throughout the year, from yoga and Tai Chi to a custom detox programme. For a fully bespoke luxury experience, guests also have the option to build their own spa day with the help of a dedicated spa team member.
Looking for other similar escapes? Check out these other Adult Only Spas in Ireland.
Luxury is… Time with the Girls
For many of us, finding the time to properly catch up with friends is a luxury. Next time you get together, why not make it a completely distraction-free escape with a girls' spa break? Relaxing packages that cater to two or more people are becoming increasingly popular in spas across Ireland, and many include quality group time together in a thermal suite or over dinner or afternoon tea.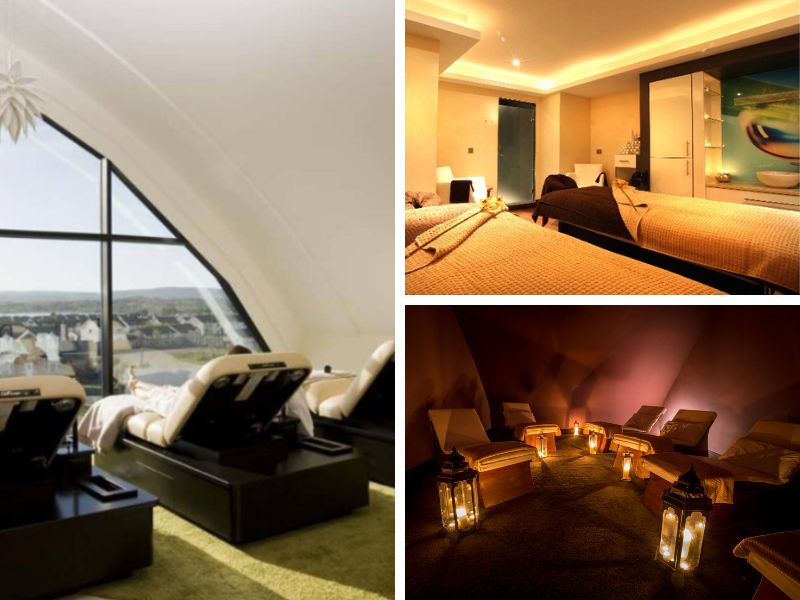 Lough Rea Hotel & Spa, Co. Galway
Enjoy the luxury of good company at Lough Rea Hotel in Galway, the perfect destination for a group spa break. Nestled outside the quaint town of Loughrea and overlooking the lake, the hotel is also just twenty minutes from the city centre. Stay with friends and enjoy the tranquillity of a rural setting combined with easy access to Galway City and the Wild Atlantic Way.
You'll also have a range of treatments to choose from at Shore Island Spa. With an aim to "deliver a relaxing and uplifting experience for each and every one of our valued customers," you'll find something to suit everyone in your group. The spa also offers a Girls Night Out Party Package, which includes an overnight stay, breakfast, a 4 course meal, a cocktail and a spa treatment with thermal suite access. For a short but sweet catch up, opt for one of the many day and half day packages available.
Find even more options in this list of Girlie Spa Packages.
Luxury is… Nature
Spending time in nature is undeniably good for the soul. Fresh air, lush landscapes and water views have a naturally replenishing effect on stressed and tired bodies. Unfortunately, enjoying the great outdoors is a luxury that many of us struggle to find the time for. Book your next spa break at a destination that allows you to soak up Ireland's beautiful countryside for a holistic, back-to-nature journey.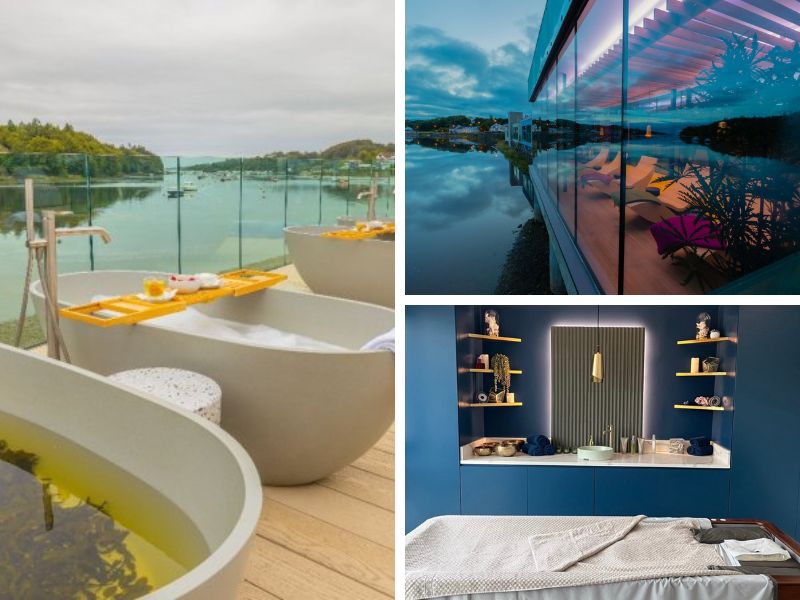 Chill Spa at The Ice House Hotel, Co. Mayo
One of Ireland's most iconic nature spa settings, Chill Spa at The Ice House in Co. Mayo is renowned for its outdoor facilities. Relax in the sunken jacuzzis or therapy baths and take in the views over the River Moy and Belleek Forest. Soothe tired muscles in Chill Spa's outdoor sauna and stimulate circulation in their bucket shower. Even your time spent indoors will be flooded with natural light and panoramic views.
"We wanted our guests to enjoy the outdoors and provide the perfect haven of escapism from everyday stress," says Spa Manager, Elaine Armstrong. "Time spent in natural outdoor spaces has physiological and psychological benefits, such as reducing stress and improving mood. Nature is very luxurious and something that is truly special and therapeutic in itself. Our hot/cold treatment facilities compliment the fresh sea air to give an overall wellness and mindfulness experience."
Want to soak up some nature on your next spa break? Check out these options with stunning outdoor hot tubs.
5 Star Luxury Spa Hotels
While luxury comes in many forms, it is true that 5 star luxury spa hotels offer something special. If you're planning an extra luxurious spa break, you can choose from one of these thirty 5 star hotels with spas in Ireland. Some of the best known options include:
Castlemartyr Spa
The Spa at Druids Glen
Carton House Spa
The Spa at The Marker
Fota Island Spa
Easanna Spa at Sheen Falls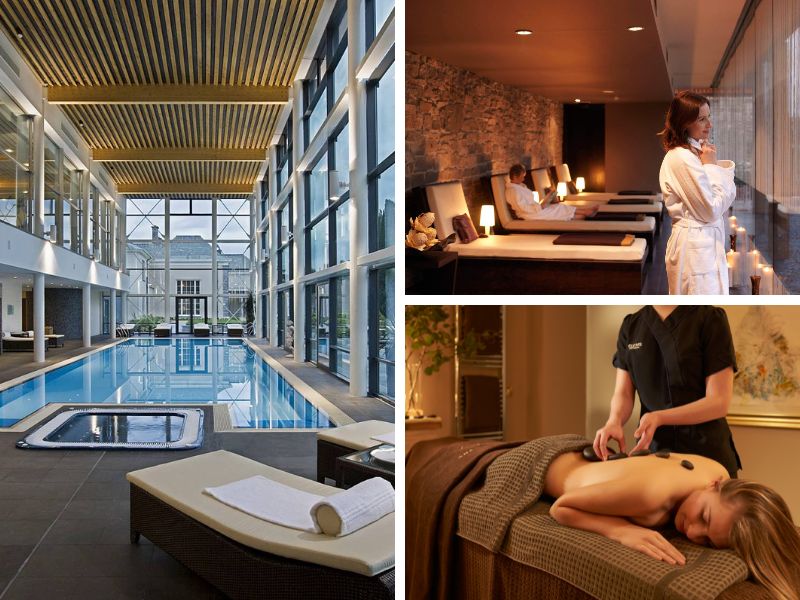 What can you expect from your stay? 5 star spas typically offer expansive thermal suites, exclusive high-end products and expert spa therapists with specialist training. When you're done with your treatments, the luxury continues from the comfort of your hotel room. Ireland's best spa hotels supply everything from fresh flowers delivered to your suite to 24 hour room service. Anything you need is just a phone call away.
Luxury on a Budget
If 5 star luxury is out of our budget, don't worry. Many of Ireland's top destinations offer Overnight Spa Deals if you know where to look. You can also usually find discounted rates at leading hotel spas if you're willing to visit midweek or during their off-peak times.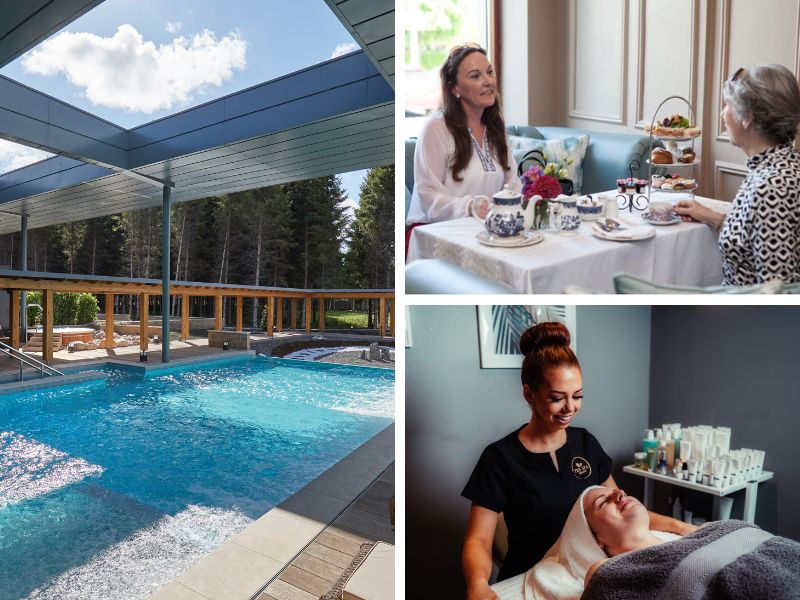 Spa Day Packages also offer a more affordable alternative to overnight stays, allowing you to experience the best of the spa's treatments and thermal facilities before unwinding in the comfort of your own home at the end of the day. Many also offer afternoon tea or lunch as part of their packages so you can get the most out of your time.
Experience Personalised Luxury at Ireland's Spas
If it's been a while since your last spa break, you may be surprised to discover the new and improved interpretations of luxury on offer. Booking a spa break is no longer about one-size-fits-all packages, spa-goers can now combine their choice of treatments with a variety of other experiences for a personalised, tranquil escape. Luxury may mean something different to everyone, but you're sure to find a wellness experience that fulfils your needs at one of Ireland's spas.