Yu-Be Moisturiser
By Jessica, May 18, 2011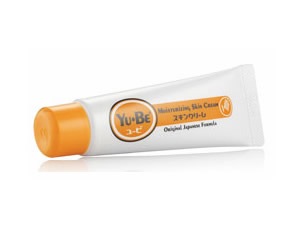 Yu-Be is the best-selling medicated, vitamin-enriched skincare cream in Japan, and has been available there since the 1950s. It was developed as a medical treatment for dry skin as opposed to a beauty product, but developed a cult following for its nourishing properties and now sells in top beauty stores world-wide.
Yu-Be Skin Moisturising Skin Cream
Yu-Be Moisturising Skin Cream can be used anywhere on the face or body, and is said to heal split cuticles, soothe calluses and burns, soften hands, elbows, knees and feet, and re-hydrate chapped lips. The moisturiser has an unusually high glycerin content and is enriched with Vitamins E and B2 as well as Camphor to soothe irritation and stimulate circulation.
The cream comes out of the squidgy tube in a surprising lemon colour. Its consistency is vaguely like that of Vaseline, but not as thick thanks to the glycerin rather than petroleum formulation. The smell jolts memories of Vicks VapoRub thanks to the Camphor, but this dissipates almost straight away as promised by the packaging.
I've been using Yu-Be as a hand cream for the most part, and while it's a tad greasy on application it absorbs quickly and leaves scaly claws feeling silky smooth. The most remarkable thing about it is it doesn't just soothe dryness, it gives a softness to the touch that my hands probably haven't had since before I learned to wash dishes. It also works a treat on dry nails, and the results last for hours after use.
The sensation of applying it to the face is a little strange as the thick consistency is unlike any other face cream I've used. I expected it to be greasy and clogging, much like a slathering of Vaseline would be for the face, but was very pleased with the incredibly softening results and impressively quick absorption. A slick over the lips also delivered instant soothing.
A bit of all-in-one wonder product, Yu-Be Moisturising Skin Cream is well worth picking up to keep in the handbag. An easy rival for the long-popular Elizabeth Arden Eight hour cream in terms of results, and the hands down winner when it comes to the quick-disappearing scent, it's available from Space NK in Harvey Nichols for around €16 for 33g.