Yu-Be
By Jessica, April 27, 2011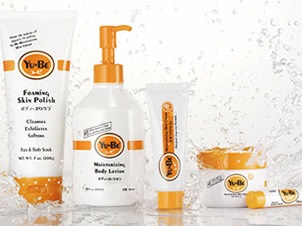 Yu-Be is the best-selling medicated, vitamin-enriched skincare cream in Japan. It's designed to treat dry skin on the face and body, including hands, elbows, knees, feet, lips, burns, calluses and cuticles.
Yu-Be products are glycerin based, following requests to a Japanese pharmacist in the 1950s to develop and alternative to petroleum skincare products. The resulting cream was originally designed to be used as 'medicated' skincare as opposed to a beauty treatment, and intended for use by all the family.
The brand expanded to the United States when a Japanese-American businessman was repeatedly asked by his wife to bring Yu-Be products back from his trips to Japan. This was followed by expansion into Europe and Australia.
The product line now includes their hero product Moisturising Skin Cream, as well as Moisturising Body Lotion, Foaming Skin Polish, Lip Therapy and Heel & Elbow Moisturising Socks. All products are glycerin-based to attract and retain moisture in the skin, and contain Vitamins E, B2 and C as well as Camphor to soothe irritation.
One of the brand's most famous users is Sumiyo Tsuzuki, a Japanese explorer who was photographed with her signature tube of Yu-Be moisturiser hanging around her neck at the summit of Mount Everest and at the south pole. She claims it helped to counteract the damage extreme winds and sub zero temperatures wreaked on her skin.
Yu-Be products are available from Space NK in Harvey Nichols and from various online retailers.