What is a Facial?
By Jessica, September 28, 2011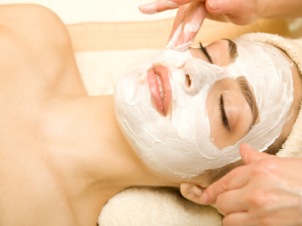 Facials are an essential part of any skincare regime, giving an extra monthly boost to your daily ritual. Whether going for a professional treatment or mixing up your own version at home, even the most basic of facials incorporate a number of standard steps.
Deep Clean
Make sure your face is free from any make-up or other products at the beginning of your facial. This will improve skin's receptivity to products used as well as allowing your therapist to properly assess your skin type and needs if getting a professional treatment. The very first step in any facial treatment should be a thorough cleanse.
Exfoliation
After analysing your skin, your therapist will usually gently exfoliate the face once you're not prone to heightened sensitivity. This can be done using a physical exfoliant, such as a scrub or a chemical exfoliant which breaks down dead skin cells without any abrasive scrubbing motions.
Extractions
This stage can vary greatly from spa to spa, and even from facial to facial. Those spas which carry out extractions will gently remove any blackheads or other congestion from the pores following an exfoliation, but should give you the option to skip this stage. If done incorrectly extractions can cause broken capillaries and redness – it all depends on the skill of the therapist.
Massage
Every facial will involve a degree of massage, gently applying oil or cream to the face while boosting circulation and encouraging lymphatic drainage. This is one of the most enjoyable stages of a facial, relaxing and soothing while encouraging regeneration of the skin.
Mask
Most facials incorporate a face mask of some description, targeting your specific skin needs and cleaning at a deeper level than your average cleanse. The mask will be applied to the skin and then left on for a short period of time. The therapist should stay in the room with you while the mask is left to do its work, sometimes offering a scalp massage while you wait.
Finishing Touches
Once the mask has been removed from your face and any other steps in your treatment have been completed, your therapist should apply some form of moisturiser or oil to protect your skin and prolong the results. Often you will be recommended products for use at home at this stage, with some spas offering a retail line of the brands they use.