Pumpkin Face Mask
By Jessica, October 7, 2010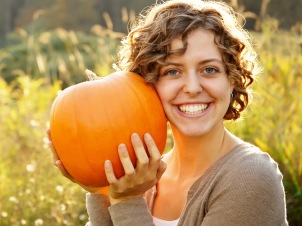 Did you know pumpkins contain Vitamin A, Vitamin C and Zinc making them ideal for face masks even for sensitive skin? If, like a lot of people, you're at a loss what to do with the gooey inside of a pumpkin after it has been carved, this simple face mask recipe is one way of using up every last bit and making sure there''s no unnecessary wastage.
Ingredients
2 teaspoons cooked pumpkin, pureed
½ a teaspoon of honey
¼ of a teaspoon of milk (or soymilk if you prefer)
For very dry skin you can also add ¼ teaspoon of heavy whipping cream to moisturise
or ½ a teaspoon of  brown sugar to exfoliate.
For Oily Skin you can add ¼ of a teaspoon of apple cider which helps ph regulation and skin circulation,
Or ¼ of a teaspoon of cranberry juice which is high in antioxidants and helps balance skin.
Directions
-Mix all the ingredients together and apply it gently to your face, avoiding the eye area,
-Leave the mask for 10-15 minutes while you relax
-Rinse the mask off with warm water and apply your usual moisturiser.