Vichy Lip & Eye Contour Cream
By Jessica, September 8, 2011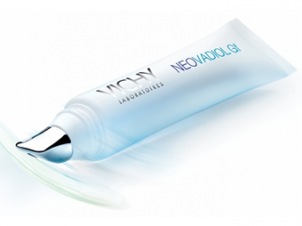 Vichy is a pharmaceutical skincare brand with a focus on addressing the needs of specific skin types. The Neovadiol line is designed for skin that is showing a loss of density and starting to sag, aiming to create volume and have a lifting effect.
Vichy Neovadiol GF Lip & Eye Contour
This Vichy cream is designed to provide definition to ageing eyes and lips, coming in a little tube topped with a funny-looking nozzle applicator. An alloy of zinc, aluminium and magnesium in case you were interested, the applicator is cold to the touch and does a decent job of soothing eye bags in its own right. The shape is probably better suited to the lip than the eye contour, but a little dabbing of anything cold never really goes amiss when it comes to dark circles.
The consistency of the cream is a little thicker than expected but apparently it transforms into a cooling gel on application. Except that it doesn't really. Applied with the nozzle, this was just far too thick for the metal to glide easily, causing it to catch and drag the skin. A big no-no in caring for the delicate eye area, I squeezed out more of the product to ease the friction. Sliding around the skin a bit better this time, the problem was now way too much product sitting heavily on the skin.
Abandoning my nozzled endeavors altogether, the traditional ring-finger-pat was adopted. Applied this way it's actually quite nice, and there's some of that fabled cream-to-gel metamorphosis going on. And, applied to the lip contour, it's nicely moisturising with this tougher skin also withstanding the metal applicator.
Separately, the cream is lovely and the nozzle is a great cooling idea. They just don't really work together around the eyes. Vichy products are available from pharmacies nationwide; the Neovadiol GF Lip & Eye Contour is €26.