Trilogy Product Reviews
By Jessica, January 5, 2011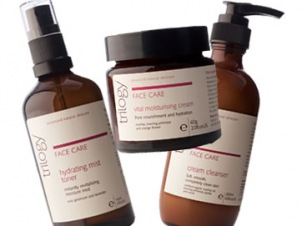 Trilogy skincare products utilise the healing properties of rosehip oil to moisturise the skin without leaving it greasy. It seemed apt to try out a trilogy of the products and so I chose the Trilogy Cream Cleanser, Trilogy Hydrating Mist Toner and Vital Moisturising Cream for a traditional cleanse, tone and moisturise regime.
Trilogy Cream Cleanser
Trilogy Cream Cleanser contains both rosehip and evening primrose oils, with aloe vera for extra moisturising. Promising to remove even eye make up, the cleanser's composition is intended to have an emollient action to leave skin supple. The most noticeable thing about the Trilogy cleanser is its silky smooth texture while removing make up. Unlike many brands it doesn't have that squeaky clean feel, instead leaving my skin feeling clean but hydrated. For this reason it has since replaced my usual cleanser which had a far less natural texture by comparison. Recommended for sensitive skin types.
RRP €26.95 for 200ml
Trilogy Hydrating Mist Toner
The Hydrating Mist Toner combines rose petal, lavender and geranium in a 'gentle aromatic moisture most' for thirsty skin. It worked well after the cleanser, giving a balanced, healthy feel. Over the course of a month of using the products I have even gone without the final step of moisturising the odd time as a result of the hydrating effect of this toner, no doubt accentuated by the fact that the product is alcohol free. It is also great for a refreshing boost during the day to awaken tired skin and improve radiance – an essential when stuck indoors with drying heating during the winter.
RRP €19.95 for 100ml
Trilogy Vital Moisturising Cream
The Vital Moisturising Cream is Trilogy's most popular daily moisturising product and intended for all skin types. Like most of their product's, the cream contains nourishing rosehip oil, but this time along with another 11 botanical actives for an added anti-ageing effect. The moisturiser strikes a good balance between heavy and light – providing nourishment and hydration without being greasy or prone to clogging pores. The fragrance also gets a thumbs up, being light and subtle. This cream works well both as a base for make up or when lashing on for intense moisturising before bed.
RRP €29.95 for 60g
Trilogy skincare products are available from Arnotts, Nourish Health stores, select pharmacies nationwide and online from www.trilogyproducts.com.