The Sanctuary's Spa Gorgeous Skin Set
By Jessica, November 4, 2010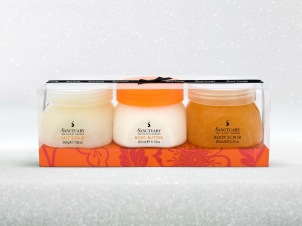 The Sanctuary Spa was originally opened for dancers at the Royal Opera house as a place to relax and unwind. Don't worry though, you don't have to be a dancer to use their products. I don't know my tutus from my pliés and I was able to try the products in their Spa Gorgeous Skin set.
Salt Scrub
Good for: Very rough skin, dull skin.
Price: On its own – €12.60 for 300ml

The Salt Scrub contains Dead Sea Salts with coconut, jojoba and sweet almond oils designed to resurface skin texture and leave it feeling super smooth. It's a very coarse scrub, if you tipped the jar over it wouldn't budge so I had to really dig in to get it out. Sounds like hard work, but it's worth it. It's very intensive and works really well on rough areas of skin such as the elbows and feet.
After rinsing away the salt there was still an oily coating on my skin, same as with a lot of scrubs. Using the body butter straight after rinsing away the scrub will lock in all those lovely oils. It's a fantastic scrub except if you're in a hurry as it wakes a while to rinse away all the oil left on the skin. It's definitely one for a relaxing night in rather than a quick shower before heading out.  
Body Scrub
Good for: Everyday, rough skin, skin that gets sore when using coarser scrubs
Price: On its own – €6.89 for 200ml

The second scrub in the set is a bit gentler and can be used every day. It promises to rejuvenate, and smooth your skin with its natural ingredients; orange oil and pumice. It's a lot less grainy than the salt scrub so the immediate results aren't as noticeable. When used daily for a few days however I noticed a difference in my skin. It was smoother than after using a normal shower gel.  
Body Butter
Good For: All skin types, very dry skin, winter skin.
Price: On its own – €10.49 for 300ml
The third jar in the set is body butter. It's as luscious as the other Sanctuary products in the set. The butter is crammed with vitamin E, cocoa butter and creamy shea butter and is supposed to deliver instant results. It as a lovely rich smell which comes from the macadamia and sweet almond oils used in the formula.
I absolutely adore scrubs and body butters (what woman doesn't?) and I found that these products worked really well together. The body butter feels wonderful and soothing after using the salt scrub and as it contains oil, it's lovely to use when skin is still warm from the bath or shower. 
The Sanctuary Products are available in Boots stores nationwide. The Spa Gorgeous skin set is €22 for three 200ml jars of the products reviewed.