The Best Fake Tans on the Irish High Street
By Jessica, May 16, 2013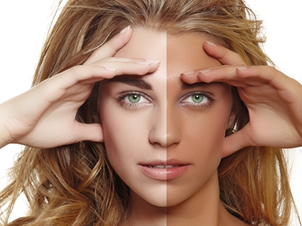 Ever wondered how we became a nation of tan lovers? It all started when fashion icon Coco Chanel went on a boating trip in 1923, she accidentally tanned her porcelain skin in Cannes (in the sunny south of France) and on her return the world assumed tanning was fashionable.
Today the tanning market is flooded with products (sales of fake tan products are worth €400 million globally). Spas.ie has picked the top 3 (affordable) fake tans available at the moment. Read on and bare your (bronzed) skin with confidence this summer.
Top 3 Self Tans
Sally Hansen
This lightweight leg makeup, enriched with Palmaria Extract, enhances the coverage of freckles, veins and imperfections. Sally Hansen is easy to apply – shake well and spray directly into hand and apply on legs. Blend evenly and completely. Allow to set for 60 seconds before dressing. Easily washes off with soap and warm water.
St Moriz
Winner of the Cosmopolitan Beauty Awards 2012, St. Moriz Self Tanning Mist gives a sun kissed, golden finish. Easy to apply, the mist is now also available in a darker shade.
Tan Organic
A Dragons Den success story – TanOrganic's 100% natural organic formula is fully certified and contains no synthetic ingredients, parabens, colours or fragrances.
It is based with Aloe Vera, an ultra moisturising formula and develops with no unpleasant aroma .It is also perfect for mature clients as well as those with sensitive skin.
There are lots of 'good for your skin' tans available at the moment, you can find more here.
Top Tips for Tanning
Now you have chosen the right tanning product it is essential you apply it correctly. Follow our step by step guide below to achieve a flawless, streak free tan!
Exfoliate the skin
This will remove dead skin cells and smooth the skin surface in preparation for tanning. Exfoliate in the shower using a light body scrub all over.
Always use a tanning mitt
ALWAYS! This will protect the palm of your hand and fingers and also ensure smoth coverage.
Don't moisturise before you tan
Moisturising creates a barrier to tan so only exfoliate your skin prior to tanning application.
Perfect finish
To finish, wipe your knuckles, ankles, elbows and sides of feet with a damp cloth (this will get rid of any excess tan) and blend areas with the mitt that may need further blending.
Go Professional
Maybe you are too busy, or simply don't want the hassle of having to apply tan at home. Our advice is to let a professional do it. The majority of salons will charge between €20 – €30 for a full body spray tan. Beforehand, always ask the beauty therapist a few questions to ensure you choose the right tan for your skin type.
• What type of tan is being used and why they chose it?
• How long it has been offered within the salon?
• Does it contain natural and harm-free ingredients?
• What is the before and after care and expected length of product?